Seat Pin Mod
Posted by Bare | Last Updated May 27, 2014
This is a pretty simple mod. The idea comes to us courtesy of AtaDude of the VTXOA. The basic concept is to fix the problem inherent in the seat bolts on the VTX. No matter how loose you leave these bolts, they always seem to snug up ridiculously tight over time. This article was originally written for the 1800C model but over the years it has been adapted to work for just about every bike. The only real difference is the length of the pins used.
Required tools/Materials
Tools to remove seat
Drill
3/8″ metal-cutting drill bit
Dab of grease (no particular kind is required)
Two 3/8″ diameter ball & detent pins (see pic below)

1800C model requires 1″ – 1 1/4″ length (available at Home Depot, Lowe's, etc)
Other models can use McMaster-Carr #98404A368, it's the same pin but 0.8″ long – thanks to Pachary for the part number

Process
To do this mod you'll need to remove your seat. With the seat removed, drill the existing bolt holes with the 3/8″ drill bit:
Take your time, be careful, and drill STRAIGHT. The last thing you want to do is slip with a drill bit so close to your paint. I had a friend hold a shop vac over the drill bit while I drilled in order to eliminate any mess.
With the holes drilled on the bike, you now need to enlarge the 2 corresponding holes in the seat itself. The drill makes short work of these holes. Once these holes are drilled, the "hard" part of the work is done.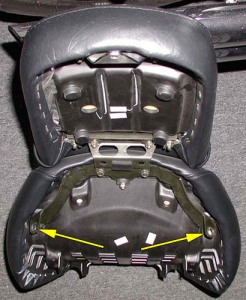 Put the seat back on the bike and reinstall the rear bolt behind the passenger seat. You can now push your new ball & detent pins through the seat mounting points where the bolts used to be. Once you know everything fits as it should, remove the pins and cover them with a very light coat of grease. This will make installation and removal a little easier. Don't go overboard with the grease, it'll just make a mess.
That's it – you're done – congratulations!
Afterthoughts
Dollar for dollar, this is a great mod. It's inexpensive, it's easy, and it provides me with the peace of mind that I never have to worry about stripping my seat bolts again – much less stripping them when I'm miles away from home and need to access my battery. This article primarily details the specifics of doing this mod on a VTX 1800 C model but I know riders who have adapted the process for every make, model and seat available for the VTX. Just measure to ensure you get the proper length replacement pins. Once again, big thanks to AtaDude for this great idea!