Replacement Flasher
Posted by Bare | Last Updated March 19, 2015
This is a "plug and play" replacement for the factory flasher module on the VTX (and many other bikes too) and eliminates all the hassle of using or installing load equalizers. If you're going to spend the money to buy 2 load equalizers (front and rear LED lights both need one) rather than making your own (my load EQ write-up has instructions) you can buy the replacement unit from Custom Dynamics for ~$25 and save some time. It's an excellent solution because it's plug and play, no wiring experience is necessary, and it eliminates the load equalizers altogether. This replacement flasher can handle up to a 10 Amp load so you can use it with almost any kind of light on the market. Not to say that you'd need it with halogens or other incandescent bulbs but it will work with any combination of LED's and other lights.
It would be a good idea to scroll through this article and be absolutely certain that this unit and plug will work with your bike. You can do this by checking your flasher (see pics below). I know that it will work on:
All

VTX 1300 models through 2009

All

02-03 VTX 1800 models

All

04 VTX 1800 models except the "N" model

All

motorcycles with a basic 2 or 3 pin flasher.
It will NOT work on bikes with a 5 or 9 pin flasher:
A select few 04-05 VTX 1800 models
06+ VTX 1800 models
Certain Yamaha and Kawasaki cruisers
While I believe this information to be accurate you should always double check your bike before ordering anything like this. I can't accurately comment on the stock flasher location for every bike, but I do know that most metric bikes have this simple 3 pin flasher setup so it's worth looking into.
This project affects parts of the electrical system on your bike so if you decide to undertake this task, you should be aware that this project could result in damage to your bike's electrical system if done improperly. Any similar work performed on your vehicle is done at your own risk. With that said, this is nothing more than unplugging one unit and plugging in another.
Required tools/Materials
Process
Remove your right side cover and find the stock flasher: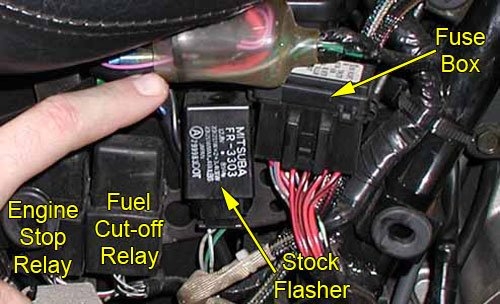 Unplug the stock flasher at the connector. You won't need it afterwards, so do whatever you want with it. You will see that when you remove the stock flasher you can easily plug this new unit in its place. Secure the unit with some zip-ties and put your side cover back on.
That's it – you're done – congratulations!
Afterthoughts
Have you ever seen an easier mod!?
There are several bonuses to using a unit like this instead of load EQ's. The most obvious is that you can use LED lights without load EQ's and they flash properly. Keep in mind that by removing the stock incandescent lights and load EQ's from the bike you are freeing up roughly 42 Watts of power that can be used to add other accessories to the bike. When you consider that this bike only puts out 400 Watts of power at peak RPM's this is a considerable gain. The unit is easy to install so anyone can do it and it costs less than 2 load equalizers so you're saving some bucks. All this makes it a pretty sweet deal in my opinion.
If you're looking for a flasher that has more options for things like accent LED's or strobes, then take a look at the other flashers available from Custom Dynamics, they're all on the same webpage.