No-Mar Classic Tire Changer
Posted by Bare | Last Updated August 23, 2013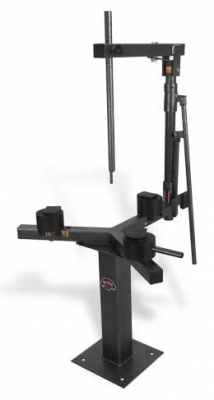 This is my personal evaluation of the No-Mar classic model tire changer.
After changing tires by hand for years using tire spoons and rim protectors, I began to notice a trend – thicker, stiffer, more difficult to work tire sidewalls, especially on the heavier touring and cruiser bikes. It became even more difficult with low profile tires like the 240 with the 40 series sidewall. I decided it was time to buy a changer after nearly having a stroke mounting a tire one night. I did my homework looking around at all my options and checking out the conventional machines that most "garage wrenches" use such as the Coats 220 machine and the Harbor Freight changer. In the process of searching, I came across the No-Mar company and a retrofit kit they make for the Coats 220 machines. This is when I got to thinking about the typical tire changer and it's steel clamps for holding rims. I realized that…
if I scratch ONE chrome motorcycle rim during a tire change, it would cost me more money to replace that rim than an entire changer was worth.
This was quite a sobering realization…
As I contemplated this, I just happened to be looking at the No-Mar website and their retrofit kits. A few clicks around their site and I found that they made their own changers and accessories and that I could buy their changer for less than a Coats machine. The entire concept of this changer impressed me – every part that contacts the rim is made from some sort of high density plastic. It's tough enough to perform the required tasks yet still soft enough not to damage or scratch anything. I was starting to like what I saw, but as with everything I find on the net, I was a little skeptical. After a few emails back and forth with Steve and Sue at No-Mar, as well as numerous phone calls getting answers to my questions, I was hooked on the idea of this changer.
Now to the boring part of the story… I got the changer, opened it up, and was impressed with it's appearance. Shortly thereafter, I had to evacuate due to Hurricane Katrina. I returned homje only to spend almost 2 years rebuilding my home and putting my life back together. After about a year I called Steve about the changer since I'd had little chance to use it. He remembered exactly who I was. He explained that I had gotten an early model of their changer, and that they had had since improved a few parts. He shipped me the replacement parts at his own expense along with pre-paid return labels for the "old" parts I had. I was impressed!
Since that time I have had the opportunity to use the changer many times, primarily on VTX tires – Metzeler, Avon, Dunlop, etc in all shapes and sizes. I've done 240 tires with the short, stiff 40 series sidewall and they mounted with relative ease. I've done car tires which are supposed to be the worst and just barely broke a sweat. It seems like everytime I run into a problem, No-Mar has a solution, and I have never damaged a rim using this product.
Pros
Works with 10″ to 21″ rims (11 5/8″ – 22 5/8″) and has 31 1/2″ clearance for tires
Built in bead-breaker
Change your own tires, no more dealer bills
No need to worry about scratching chrome or polished rims
Well built, solid construction
Powder coat finish stands up to heavy use
Lifetime guarantee on all plastic parts – if it wears out, they'll replace it
Excellent customer service
Informative website including video tips to help you learn the machine
Lots of available "extras" to help with tire changing
Different changer options to fit your needs (they have professional models that do car tires also)
Cons
It took me a few tries to figure the proper orientation of the plastic blocks for holding the tire. Now that I know how they need to be oriented, it's pretty simple
Additional tools are necessary for working on some of the stiffer sidewall tires (like the new Dunlop Elite 3's). However, all the tools you need can be purchased from No-Mar
Afterthoughts
I've been very impressed with this machine and its versatility. It can even be used to change some smaller car and trailer tires. No-Mar does make bigger changers for bigger tasks (big truck tires for example) but I don't have any experience with those machines short of testing them at a rally where No-Mar had a booth. When I first bought and tested my machine, I did have some concerns about how well it would work for stiffer sidewall tires, but after Steve updated my changer with new parts it has worked quite well. I assume the problems I had were simply because the company was still in the R&D phase when I purchased my unit. It appears that all the bugs are worked out now.
I did buy most of the accessories and extras that No-Mar sells, but I didn't do this out of necessity as much as that I change tires all the time (not just my own but for customers as well) so I wanted to make sure I'd be prepared for any scenario.
I have the:
Classic changer
Mount/demount bar
Hitch mount
Extra hands clamps
Spoon bars (VERY useful)
Rim clamp set (for super wide tires and some overly difficult, stiff sidewall tires)
Spray lube & paste lube
Spoon bar collar
Small balancer cone set
Mount/demount bar handle
This doesn't mean that you have to buy all of these accessories/extras to use your changer. Depending on your needs, you may decide to buy a package setup with a few accessories right away. If not, you can always buy whichever accessories you need later, or you can improvise on some items. For instance, instead of buying a hitch mount from No-Mar directly, another rider from the VTXOA sent me one he had made. It works great, and in his words – "Now I can go to my friends house to change his tires while drinking HIS beer."
In the process evaluating this product, I asked Steve a few questions about the changers and about No-Mar's overall customer satisfaction record. He assured me that the company's return rate is only .04% and that most new user problems are quickly resolved by checking out their video tips and tricks or with a quick phone call.
If you still have questions about the No-Mar company and changers, you can check out their FAQ section or contact page to speak with them directly. Make sure to tell them that "Bare sent ya".