VTX batwing fairing
Posted by Bare | Last Updated April 25, 2013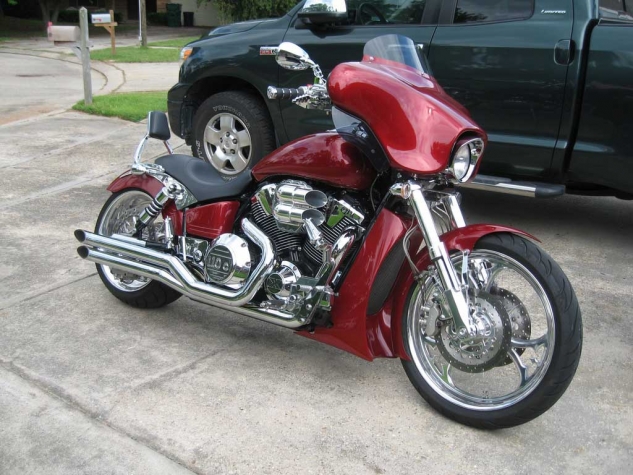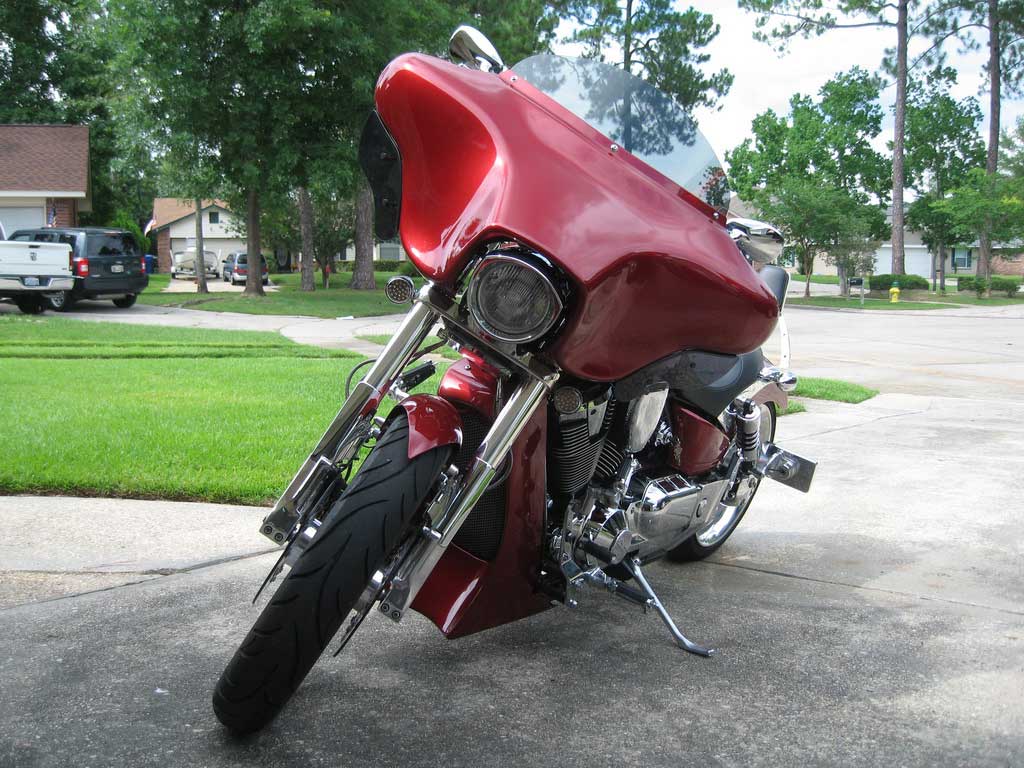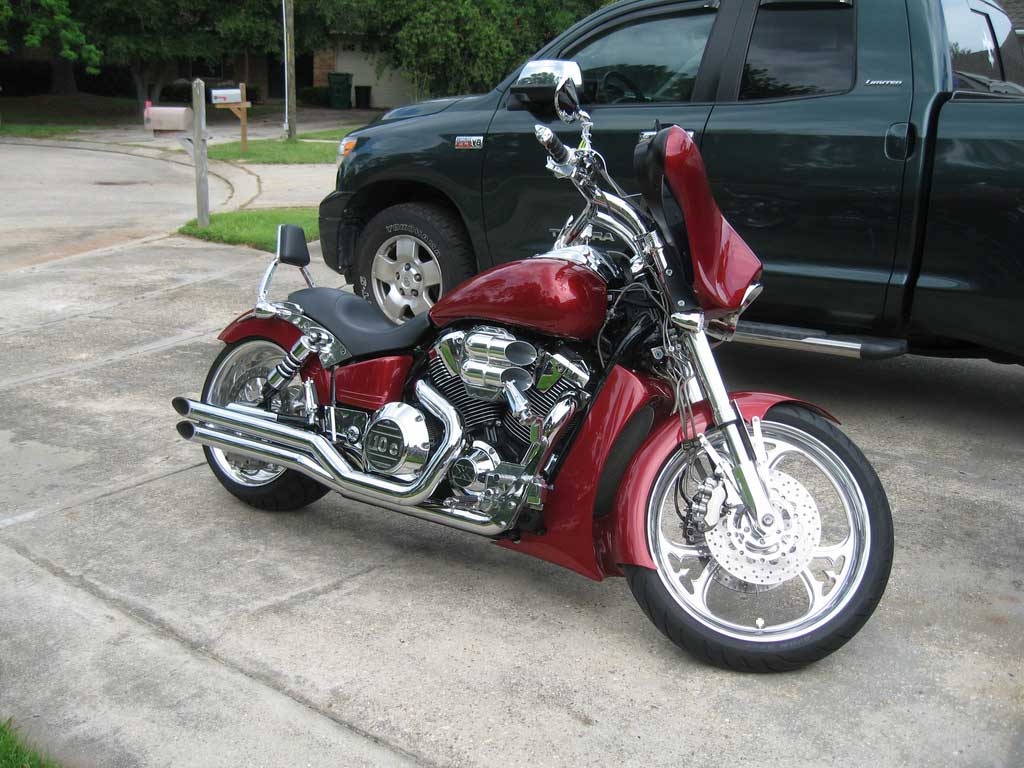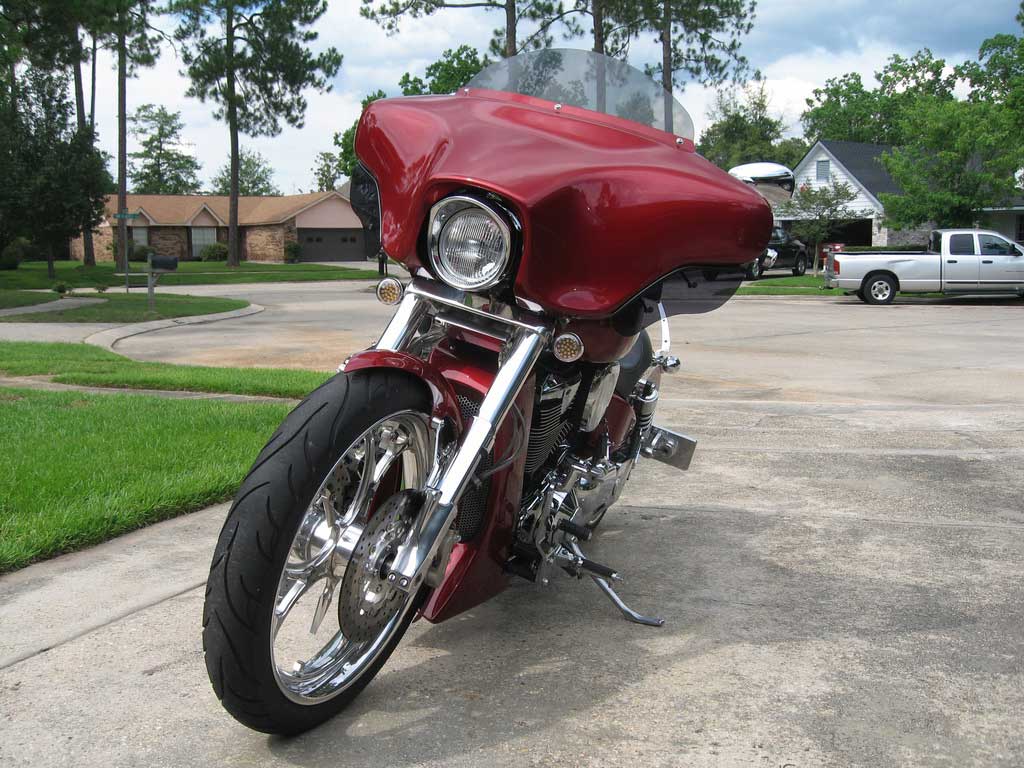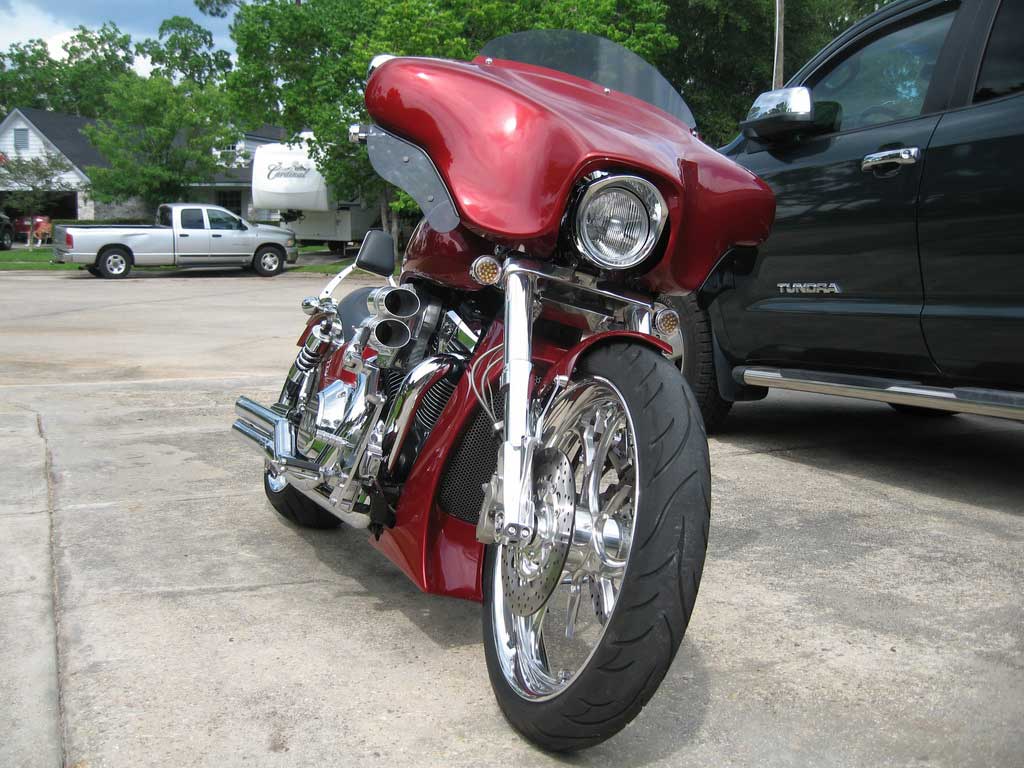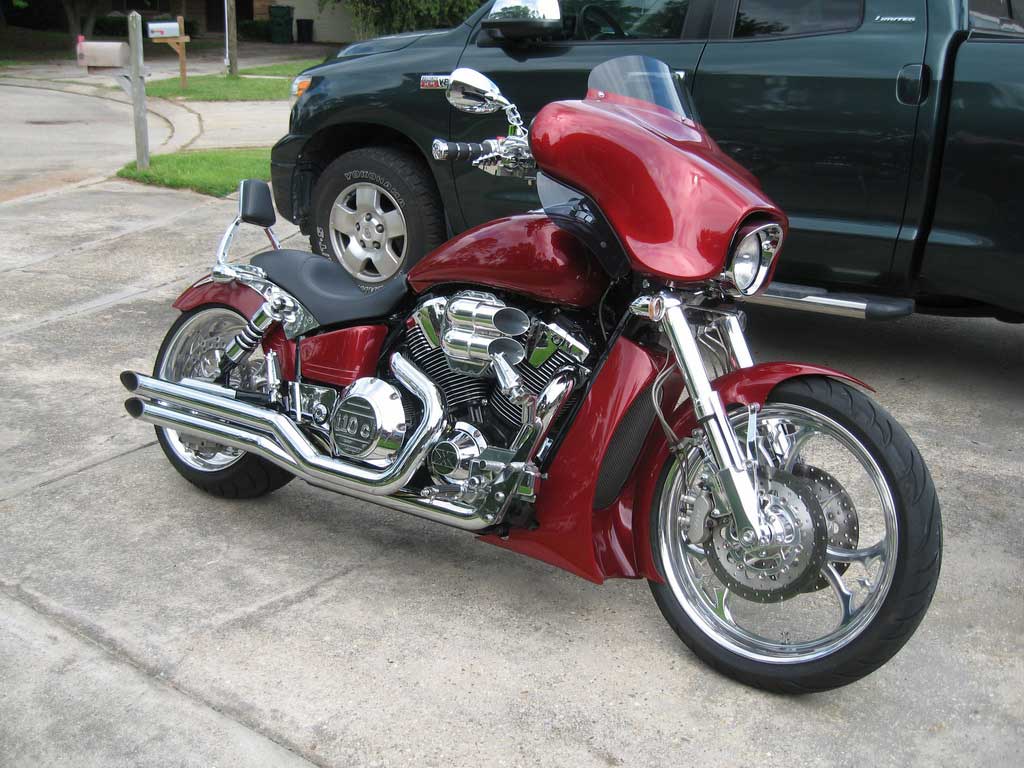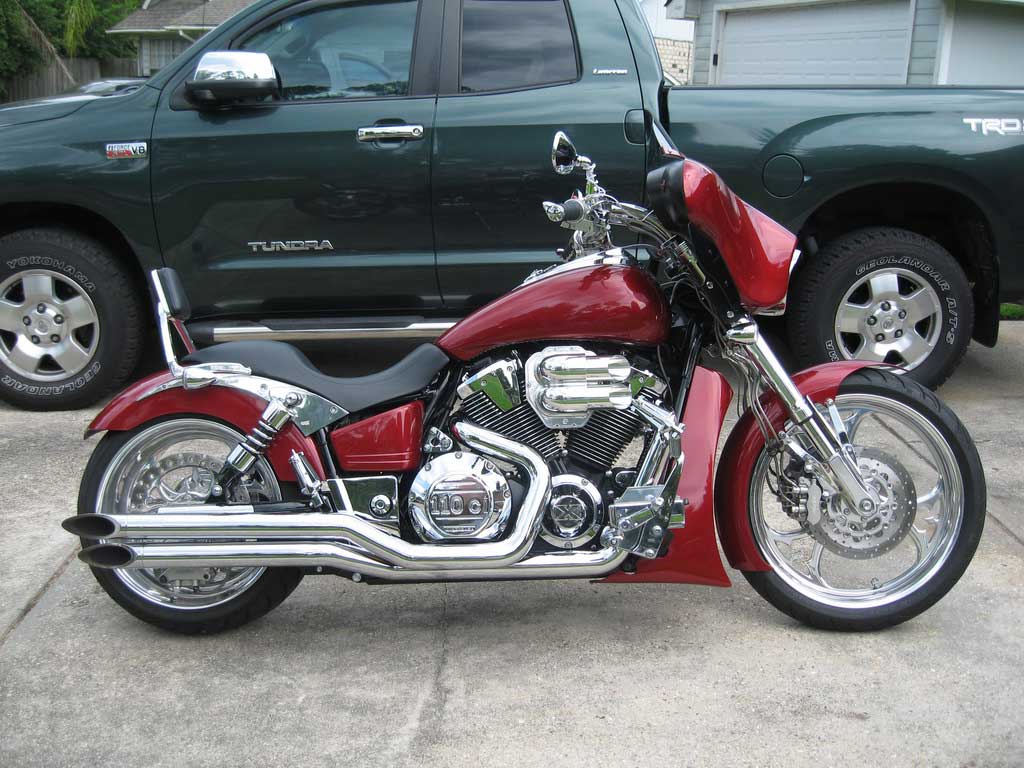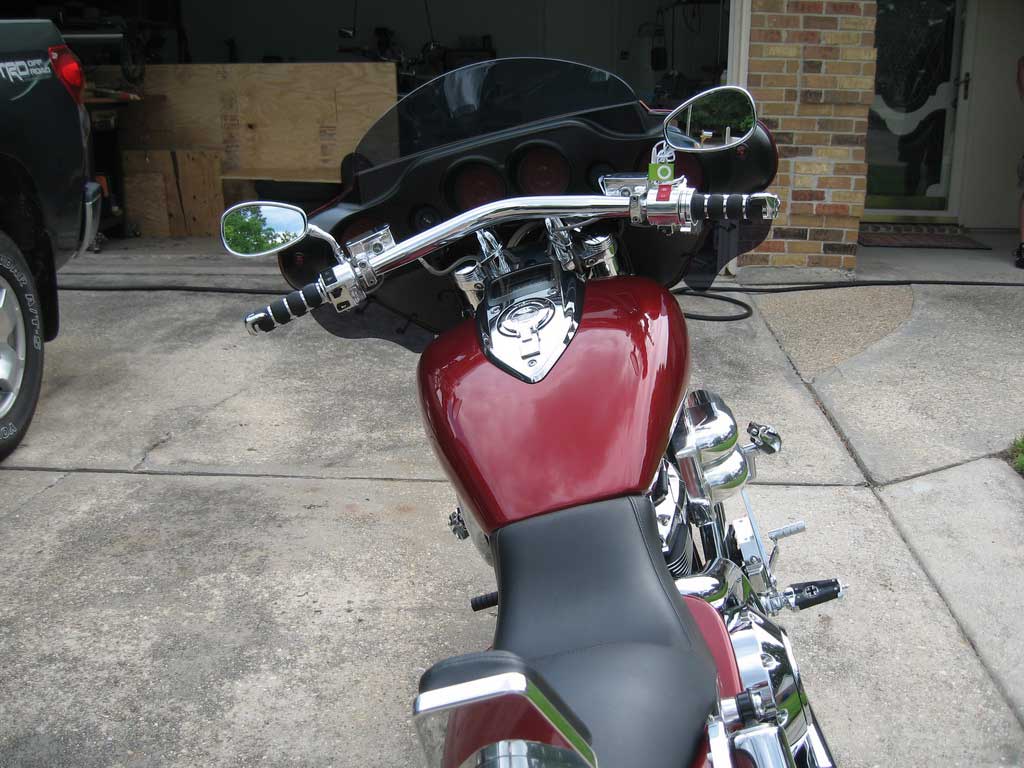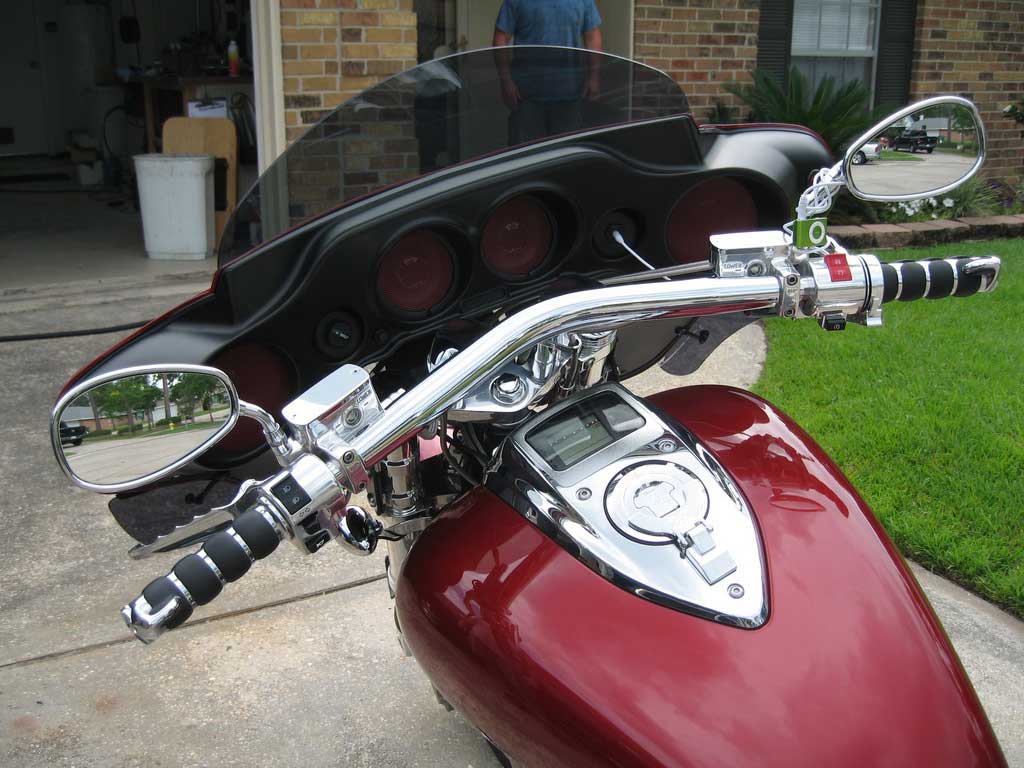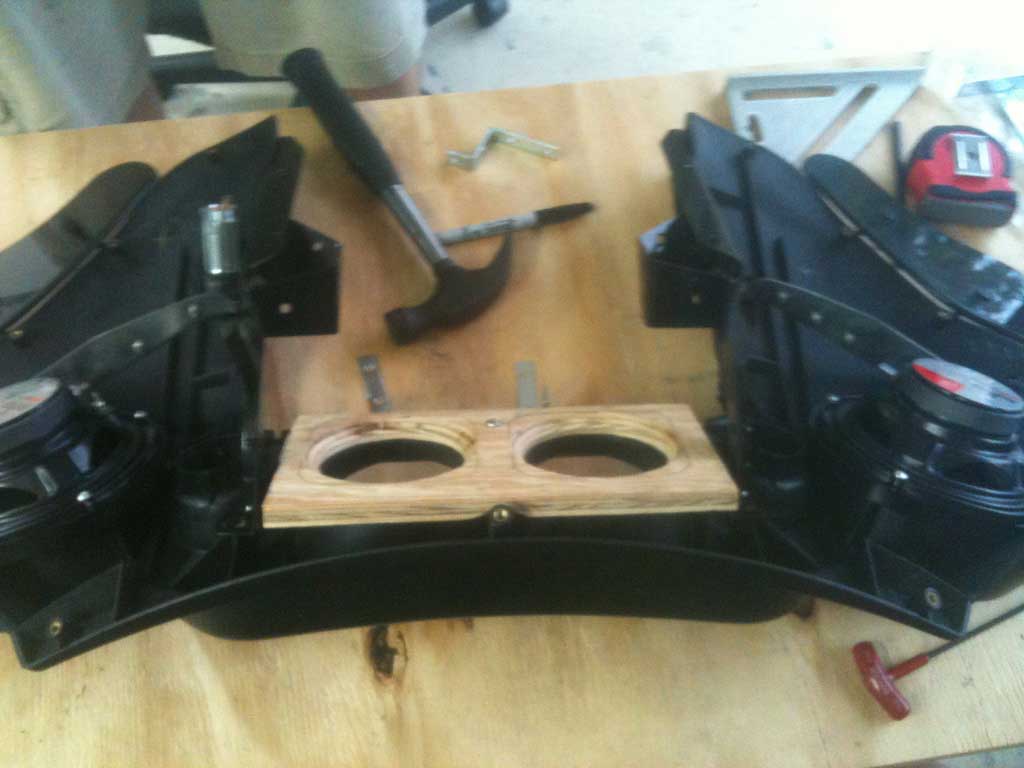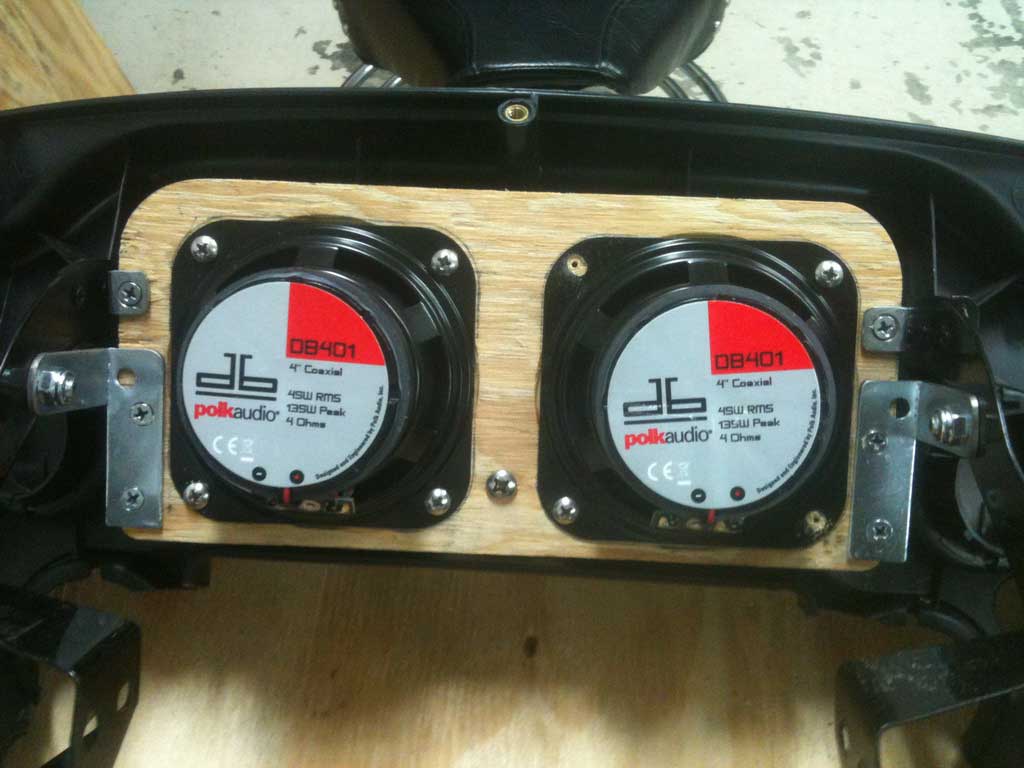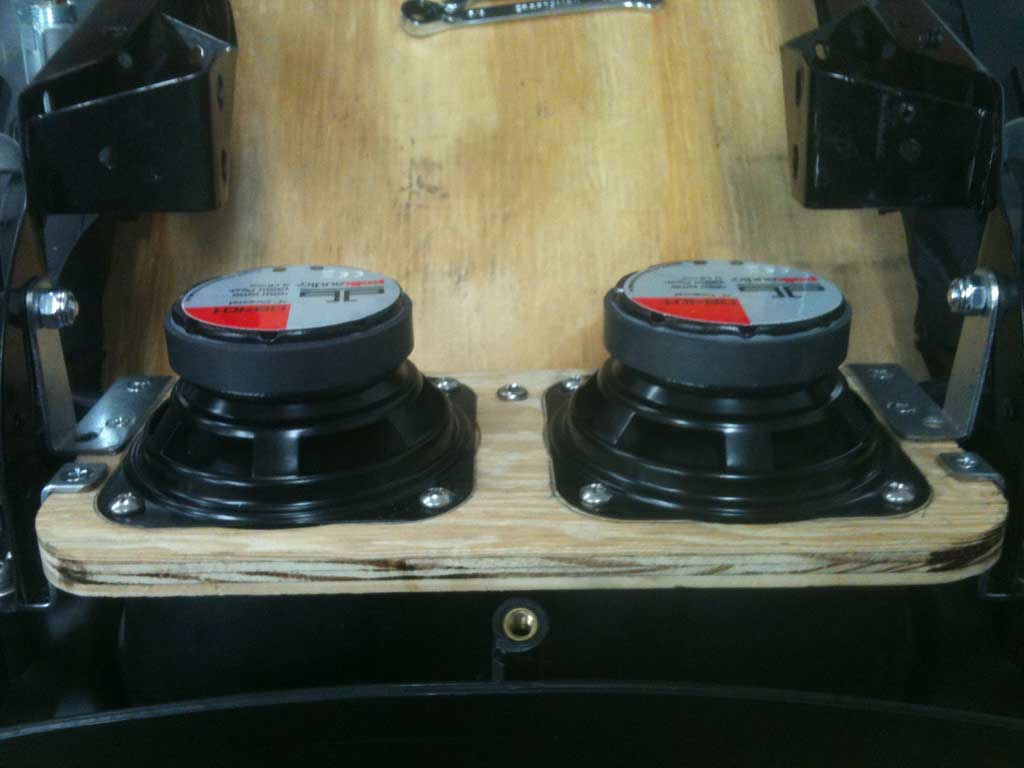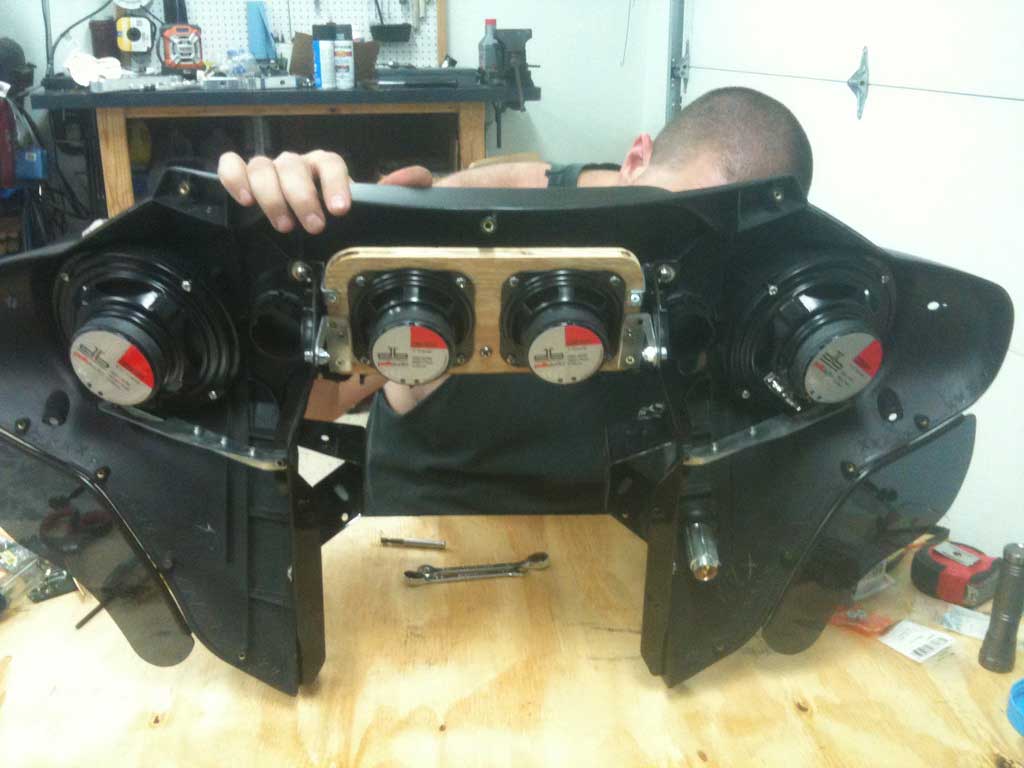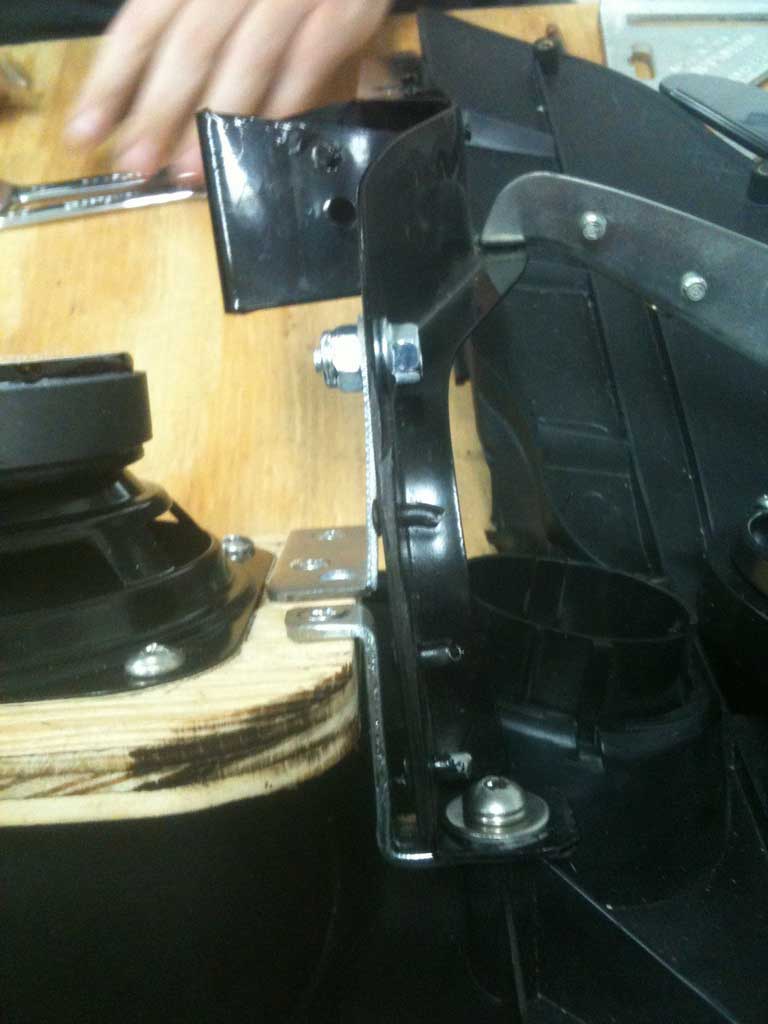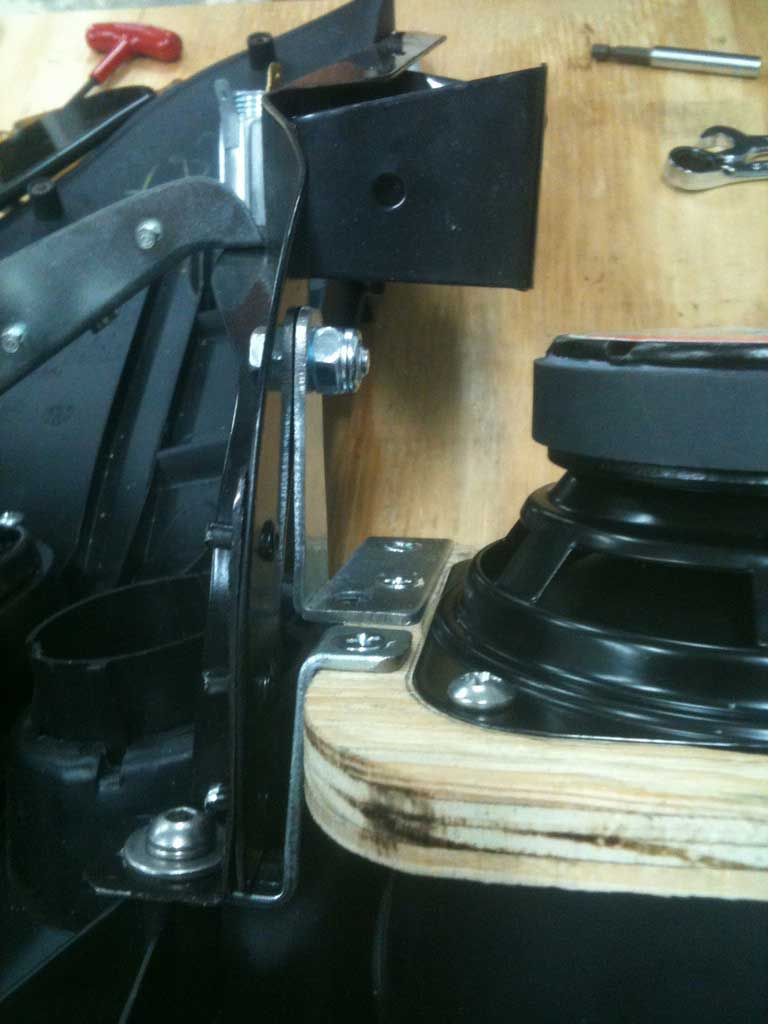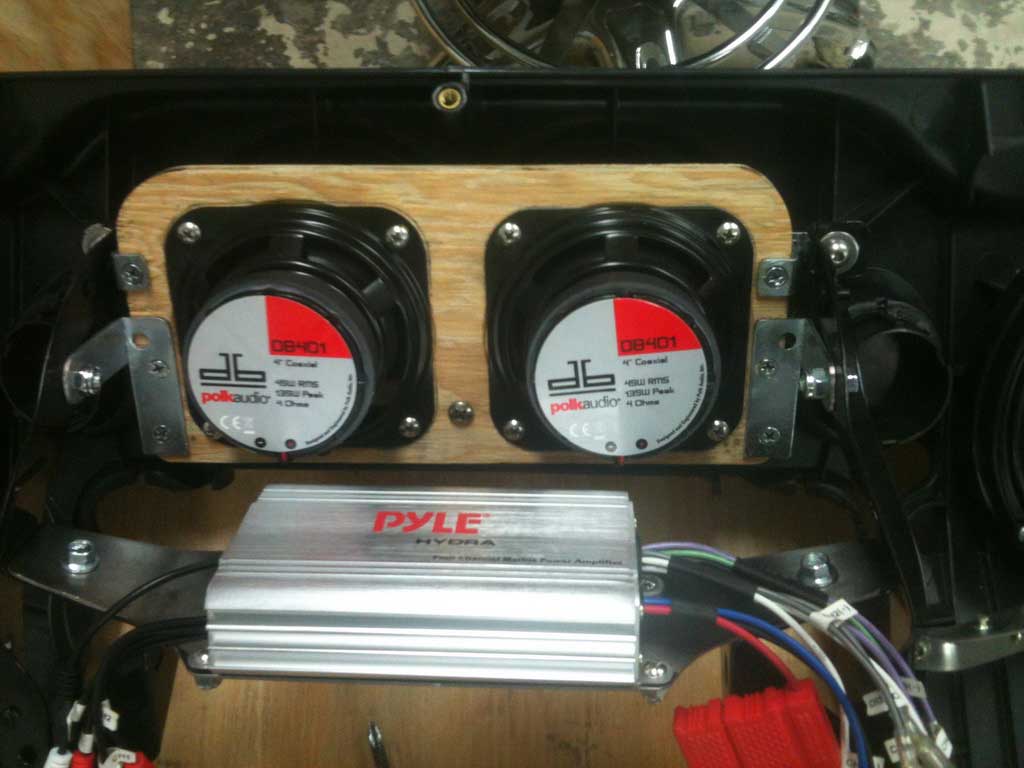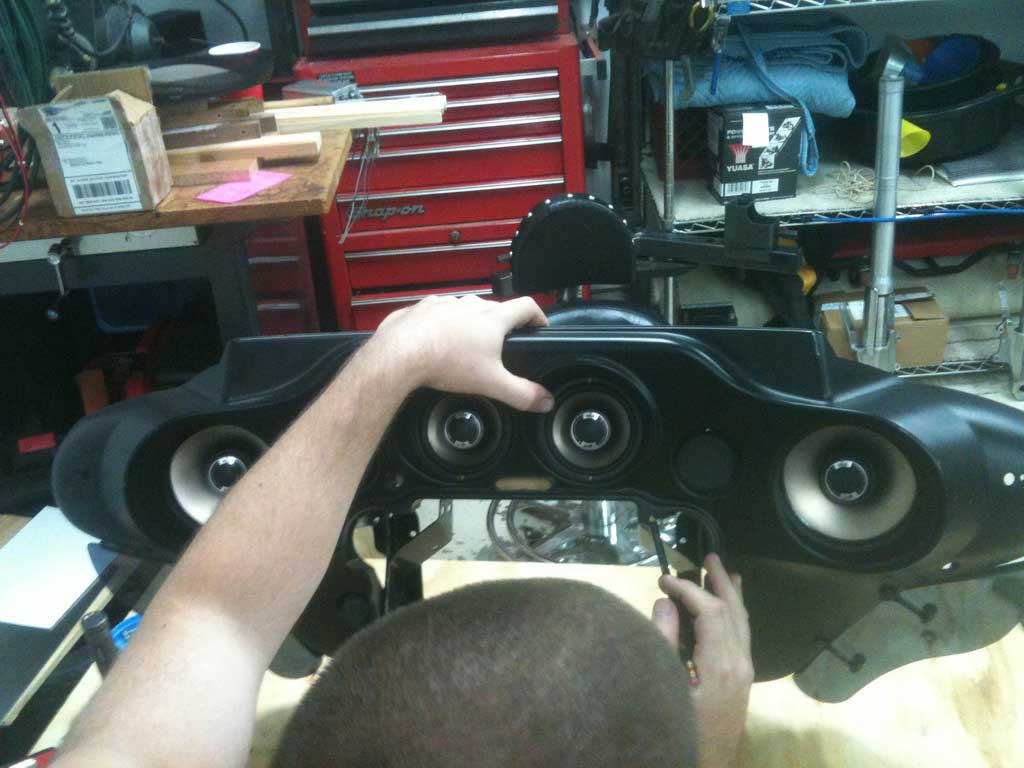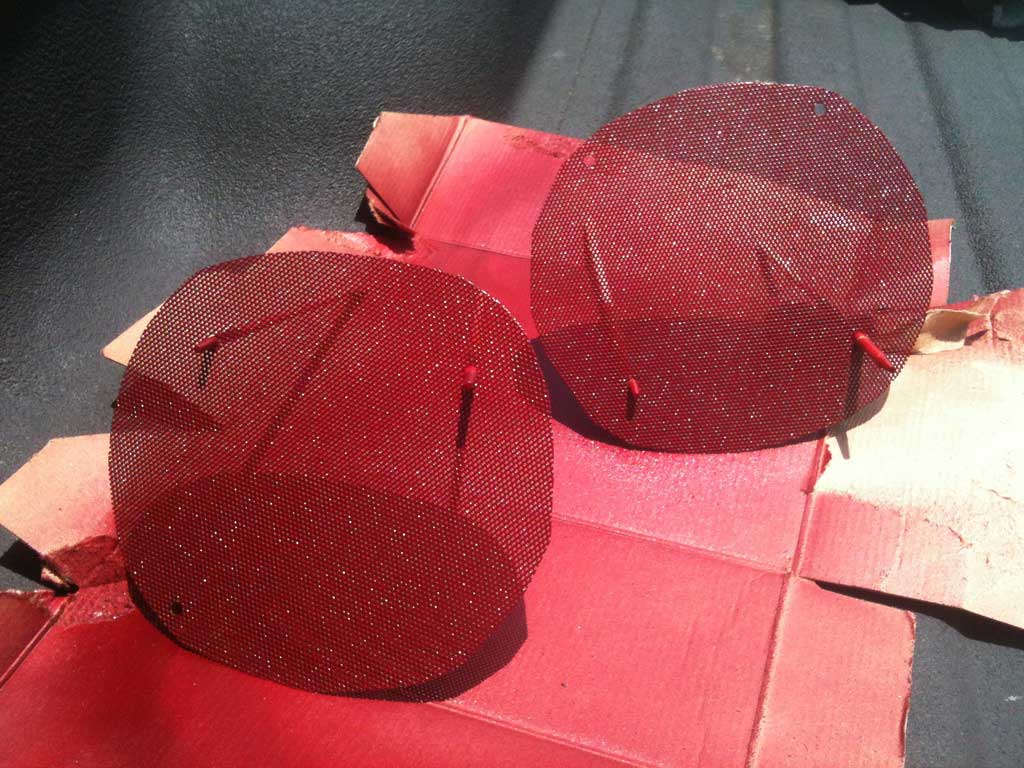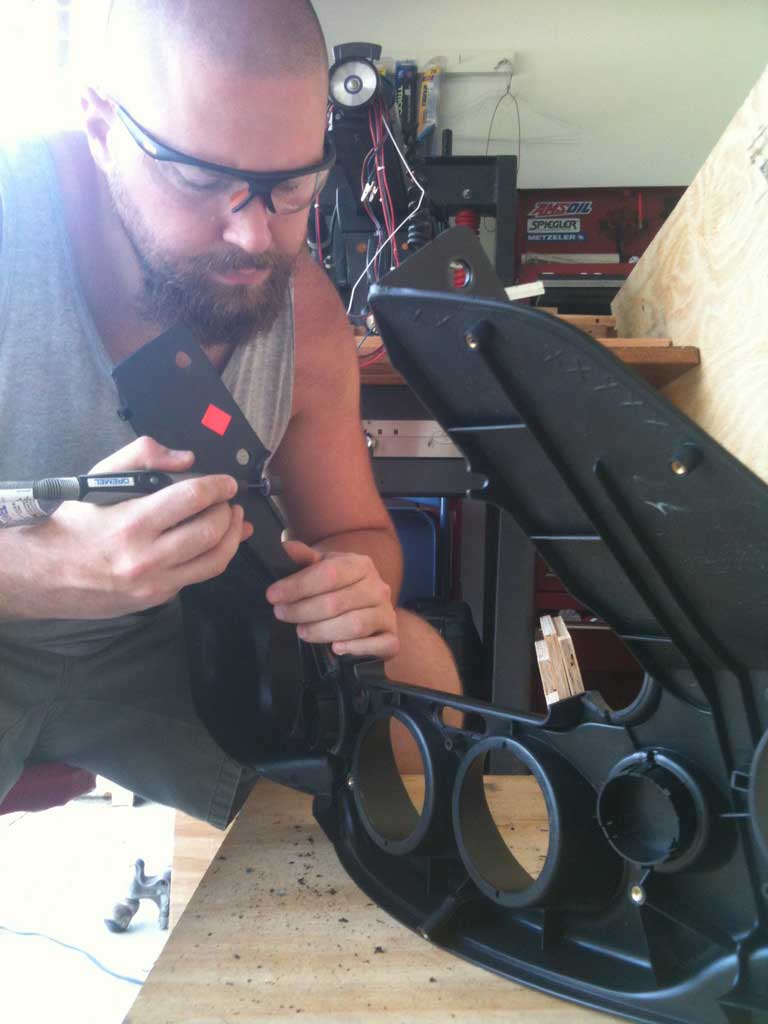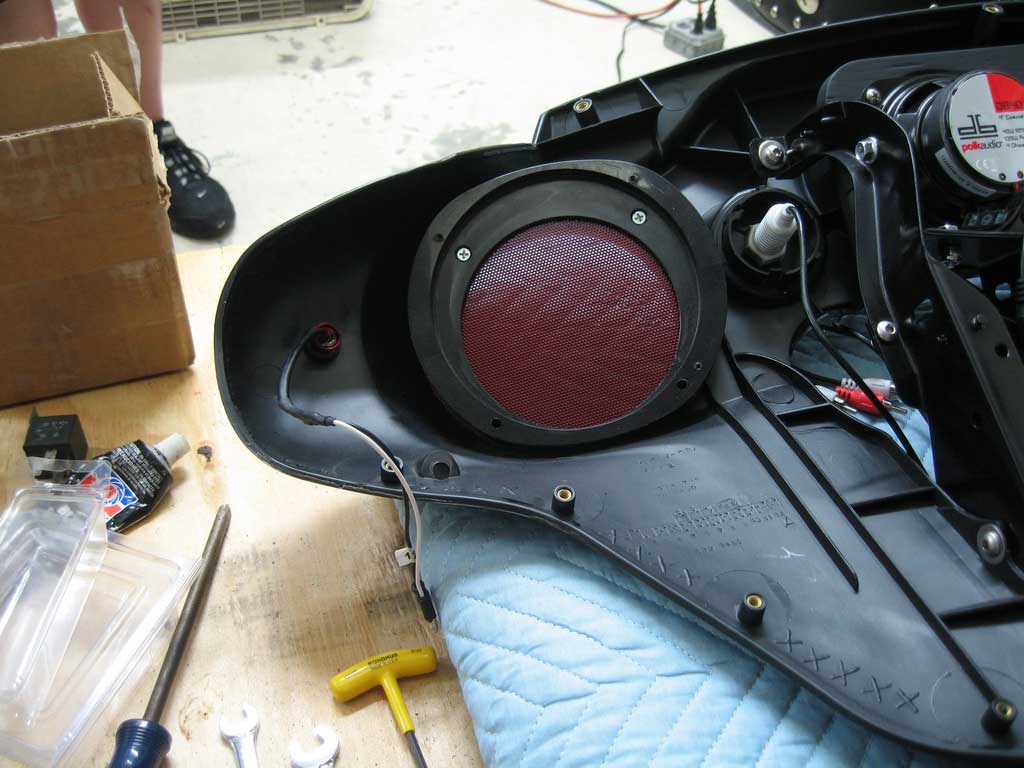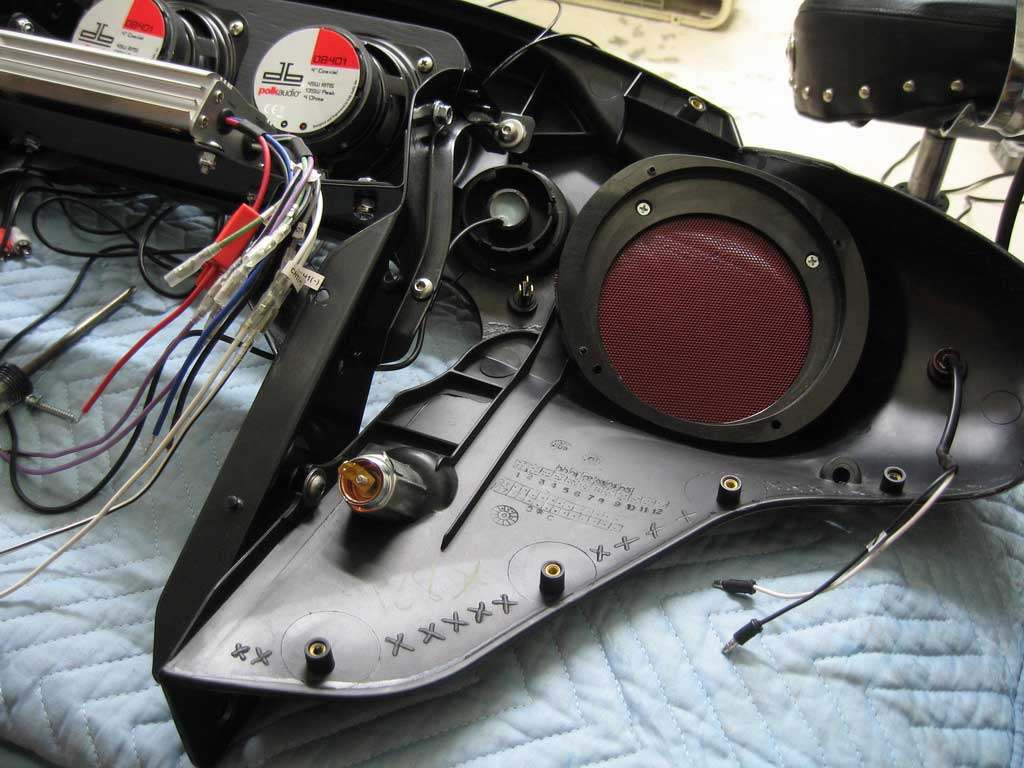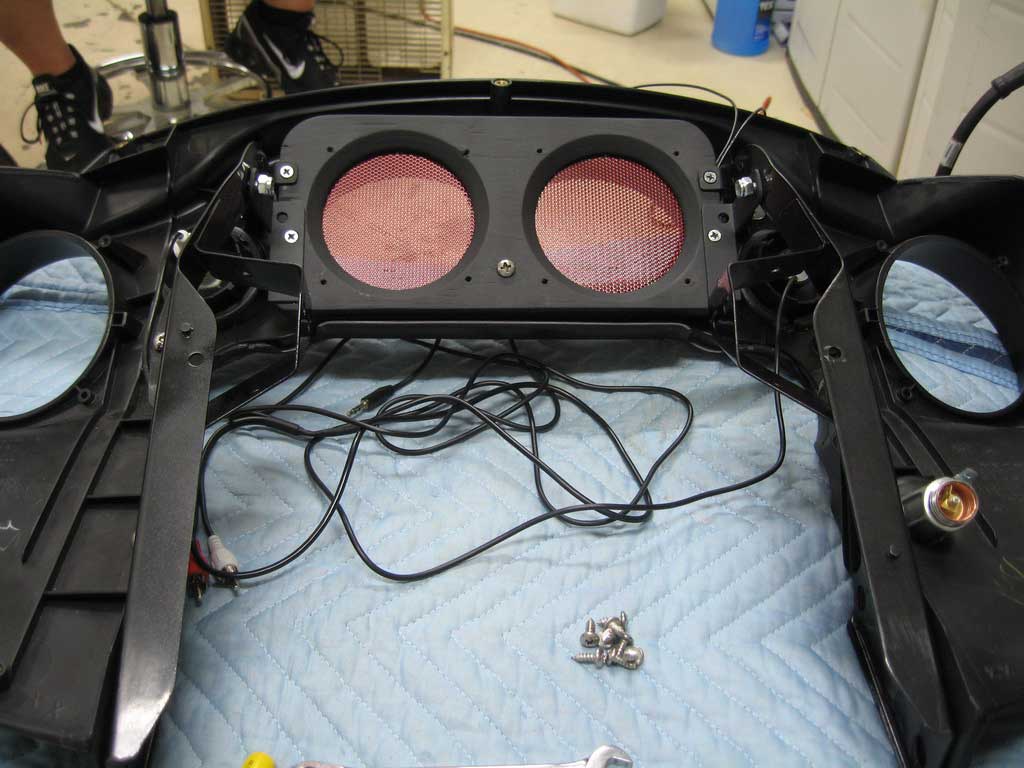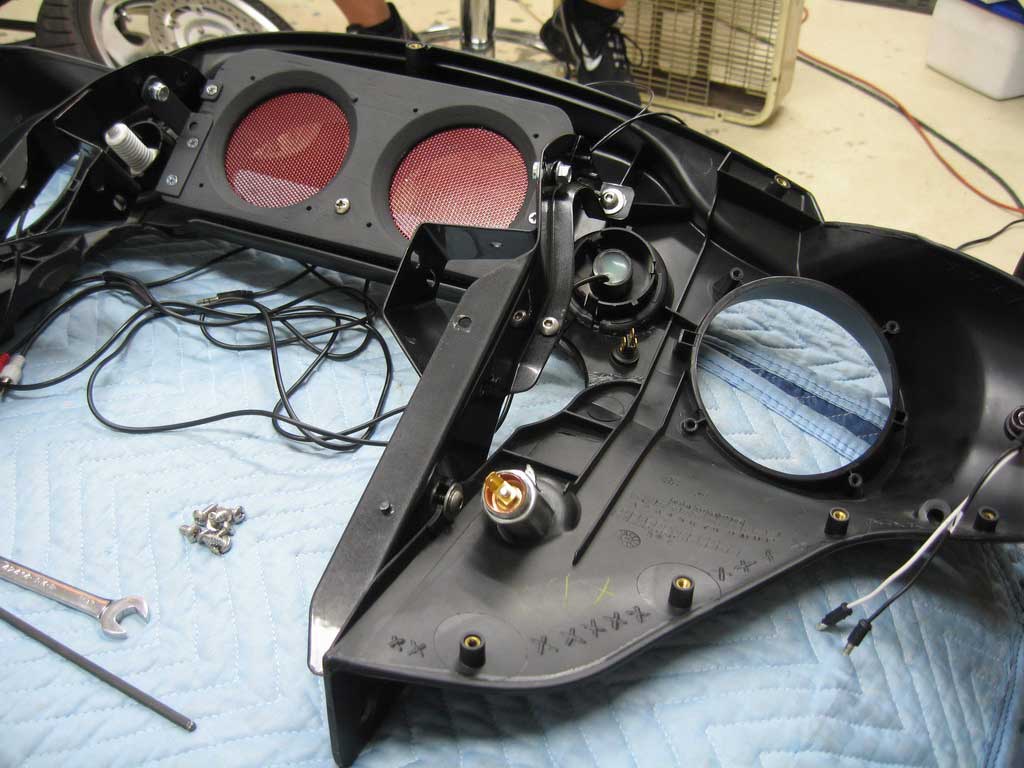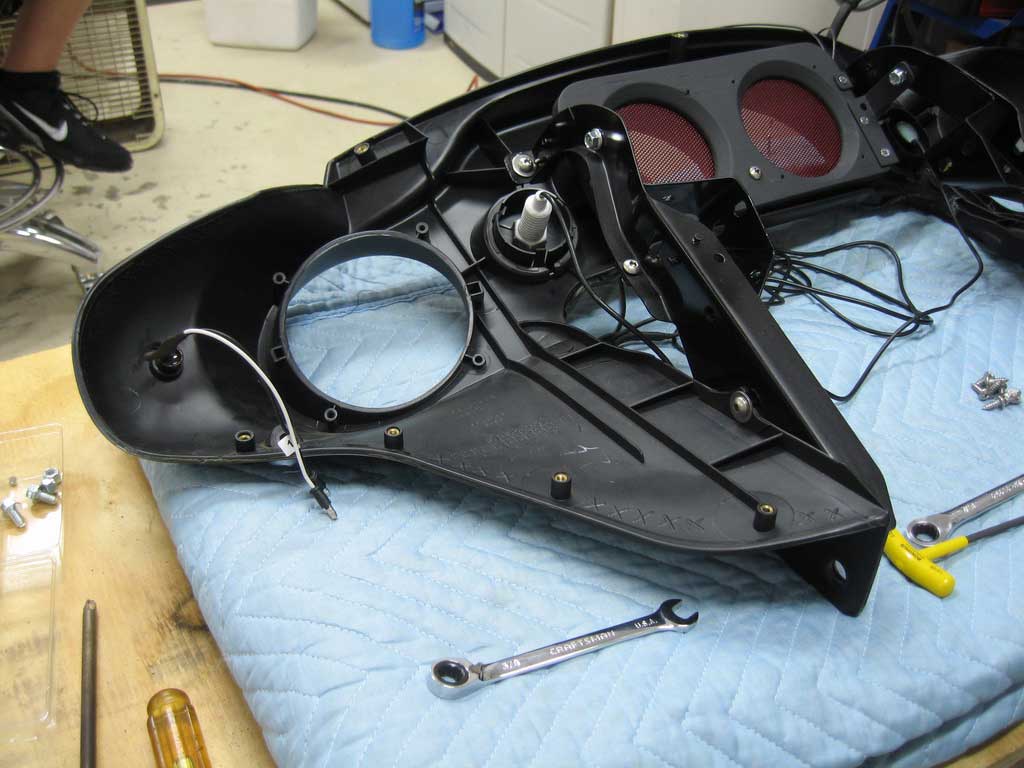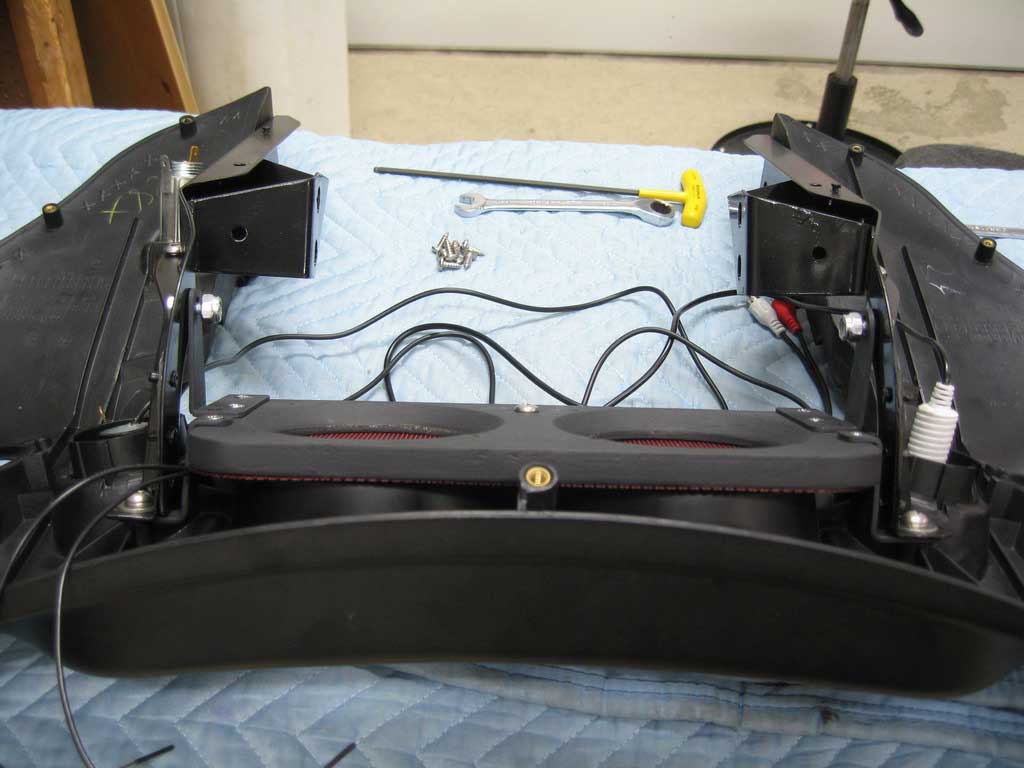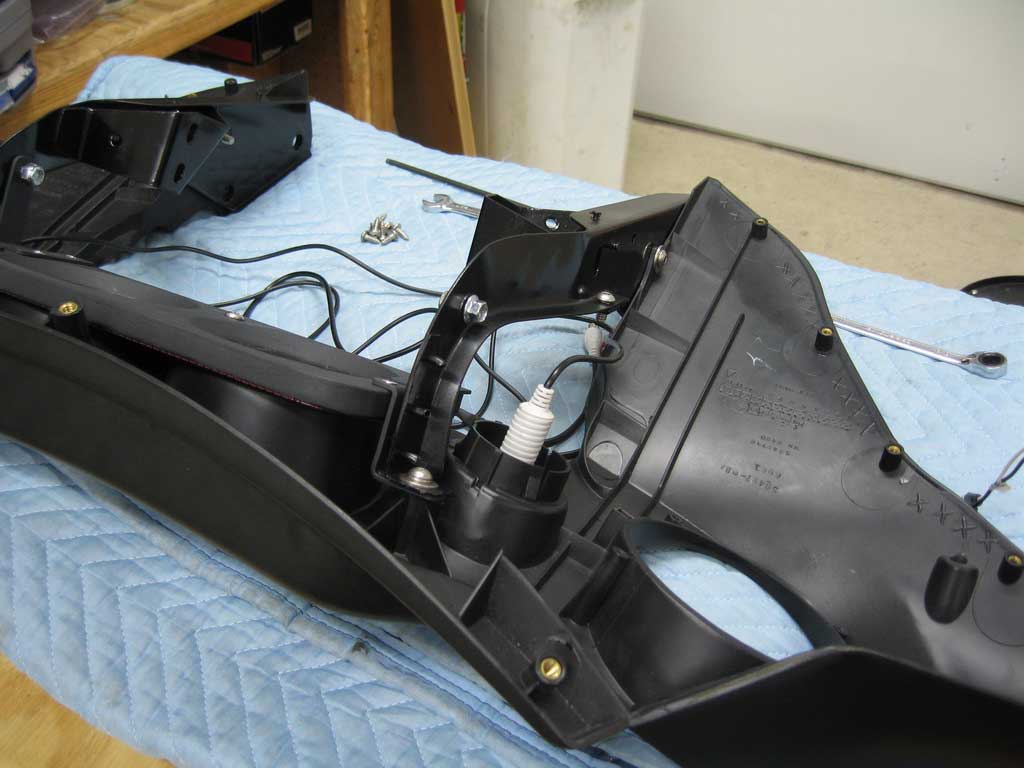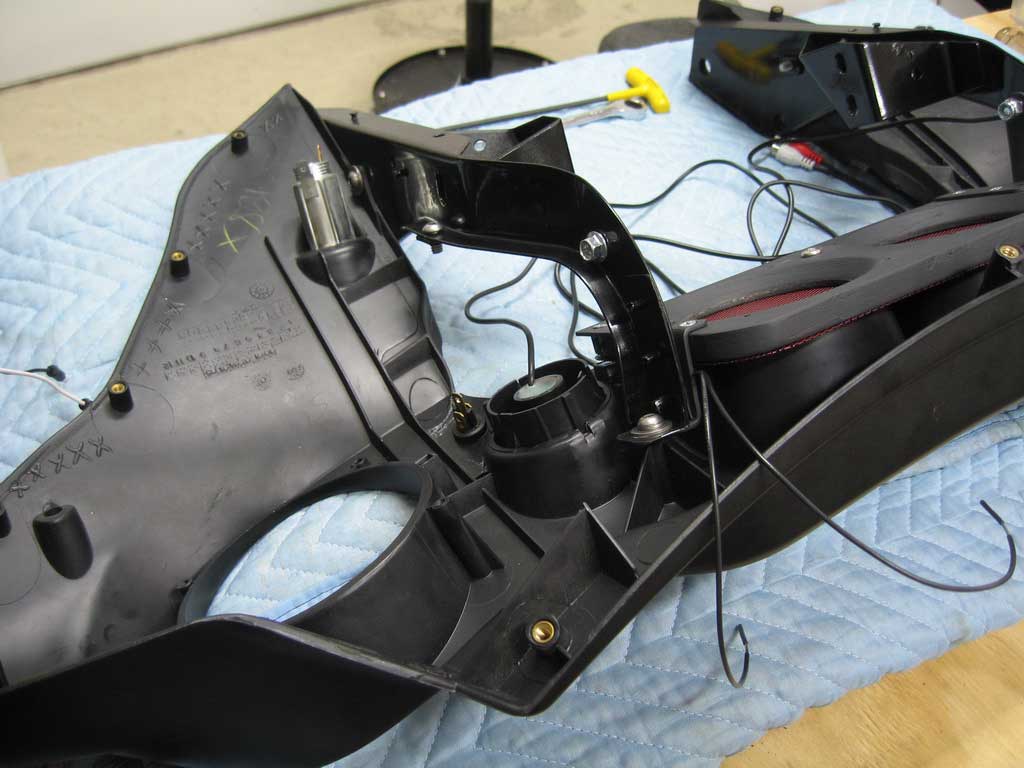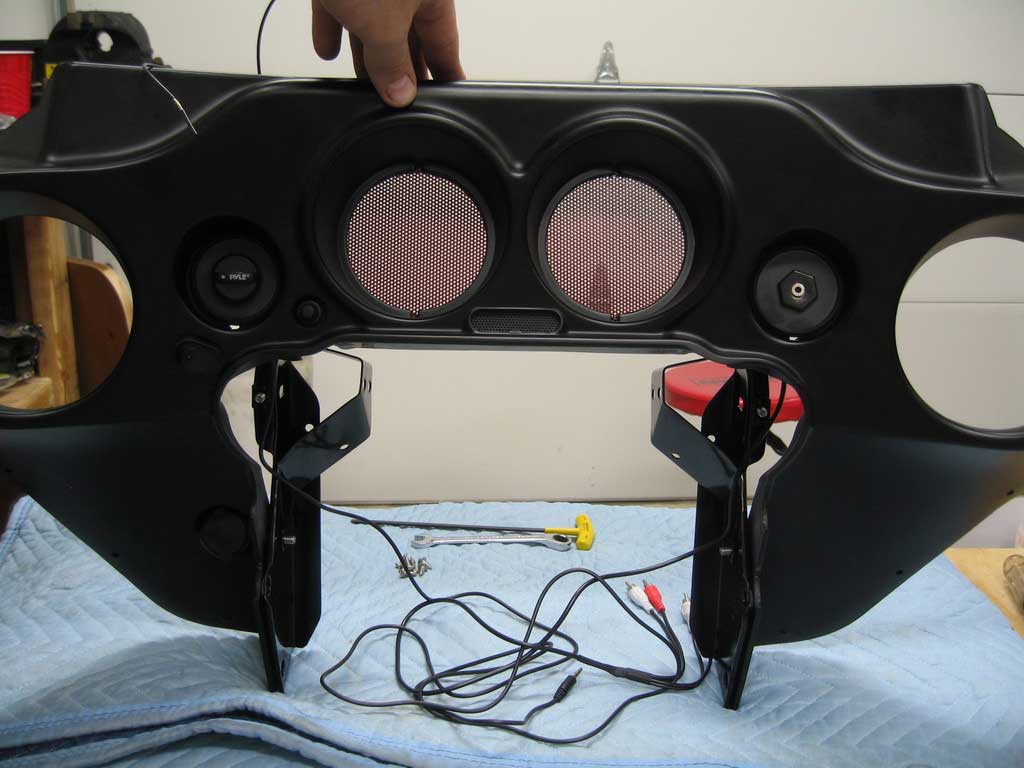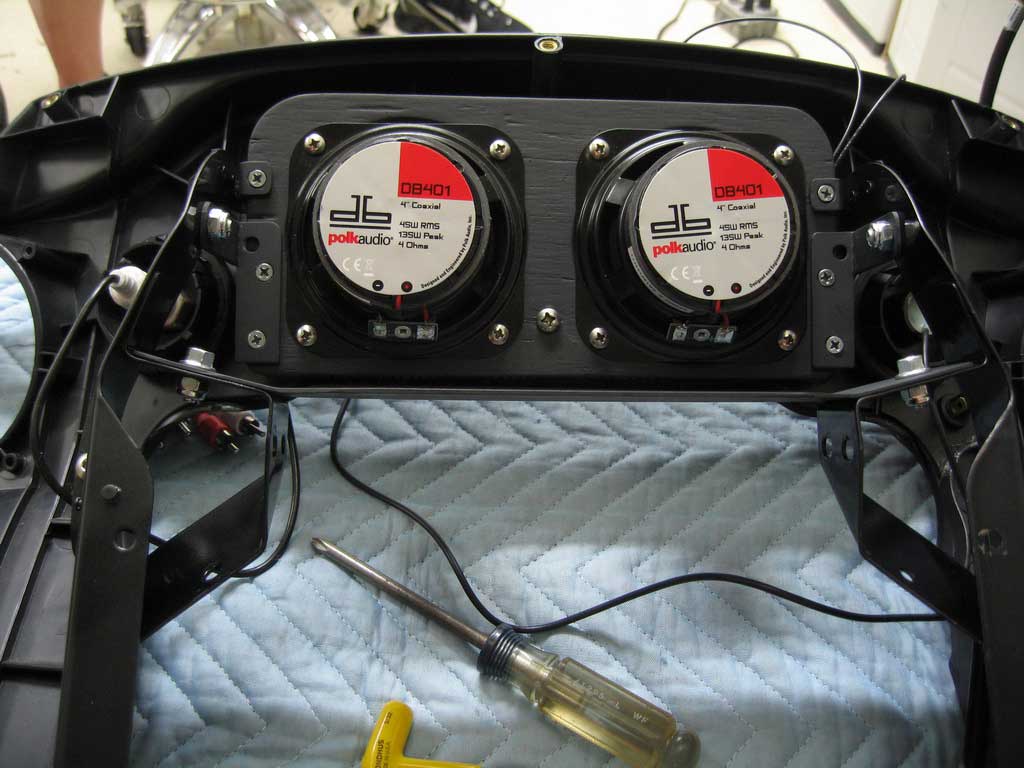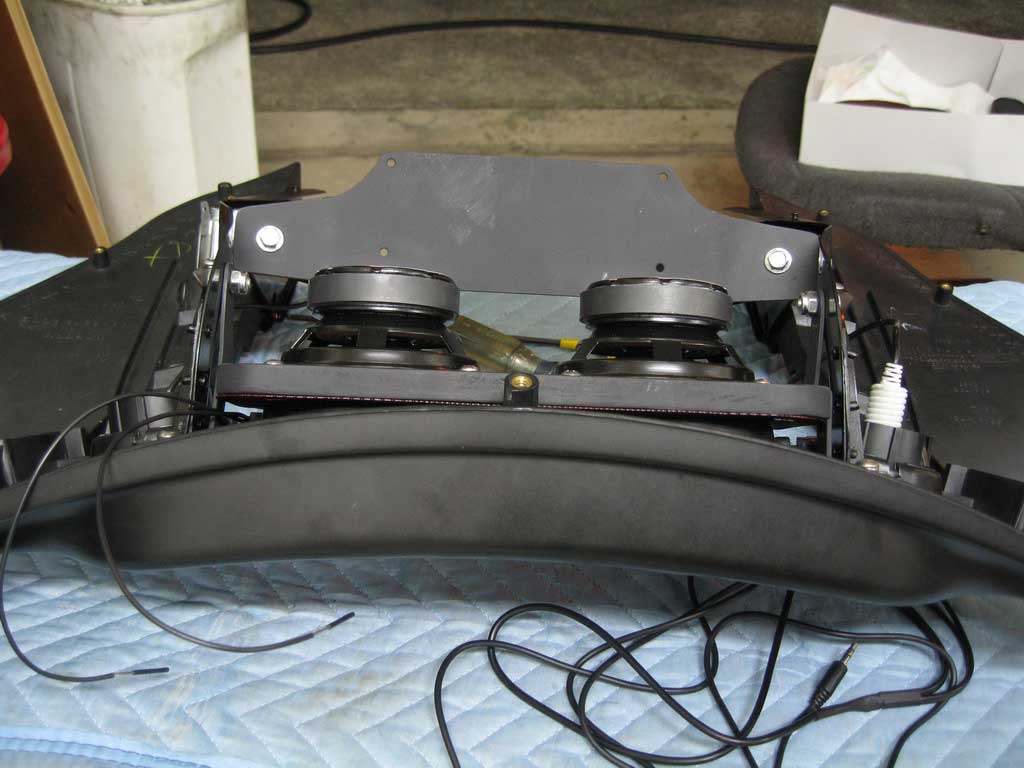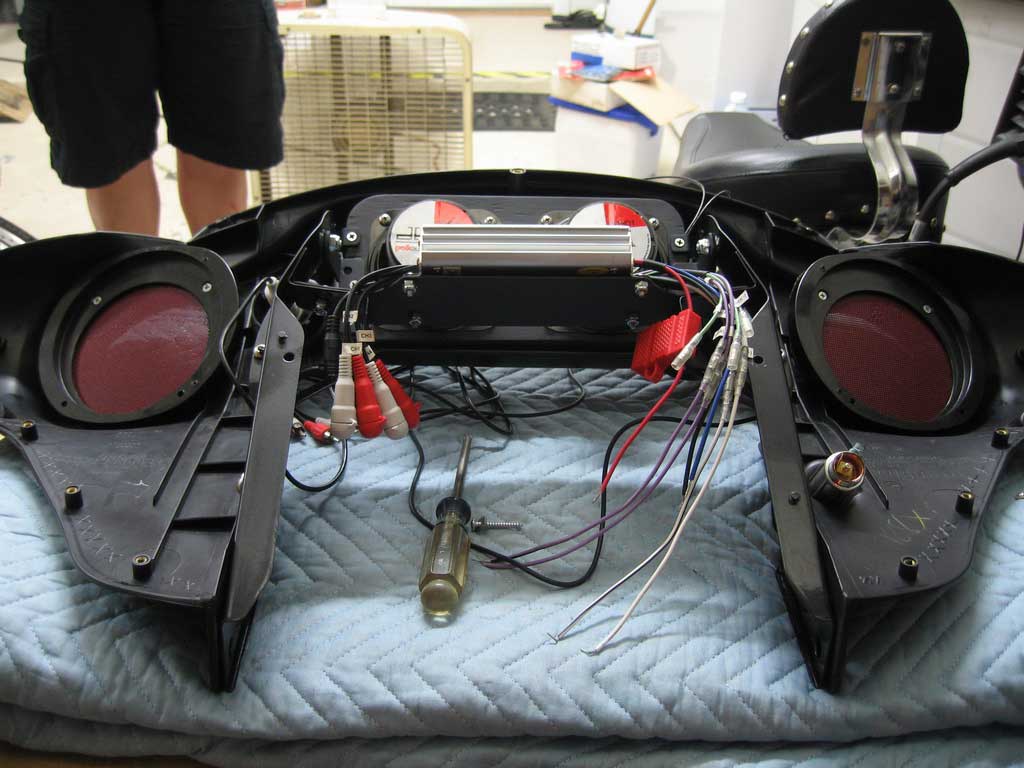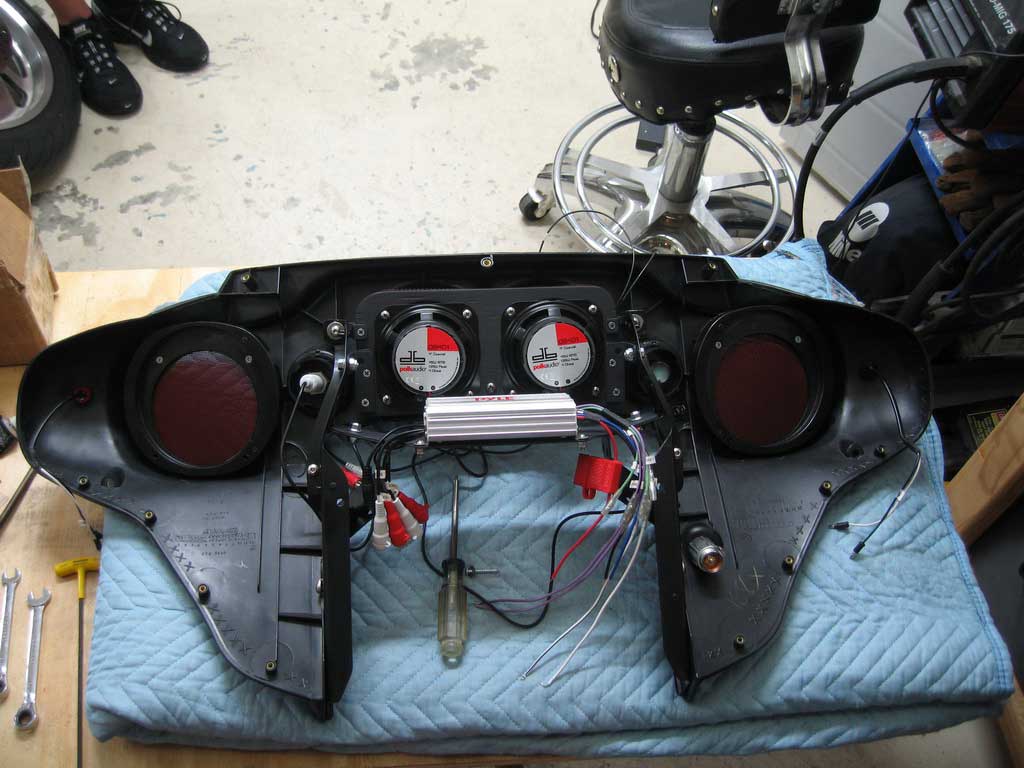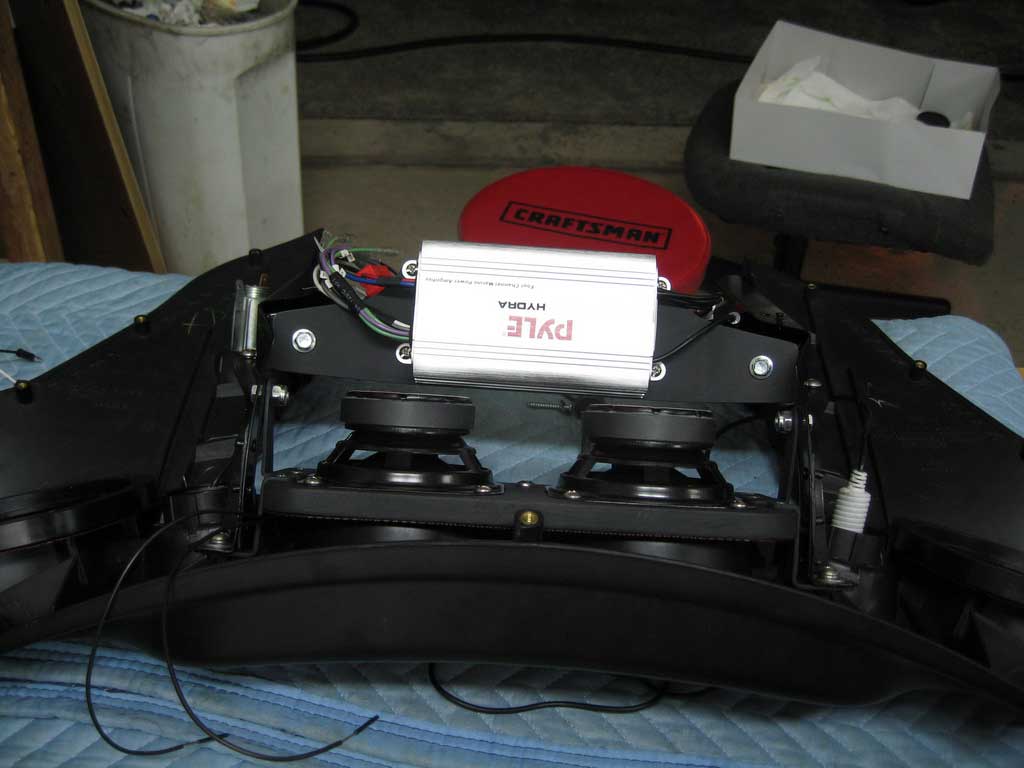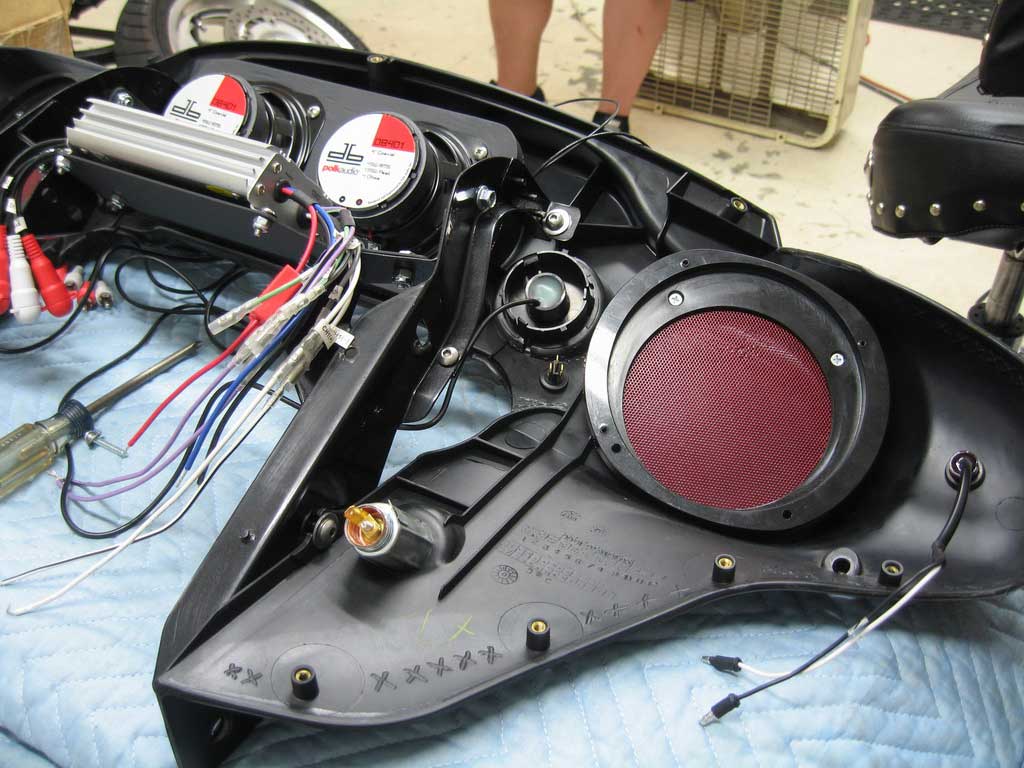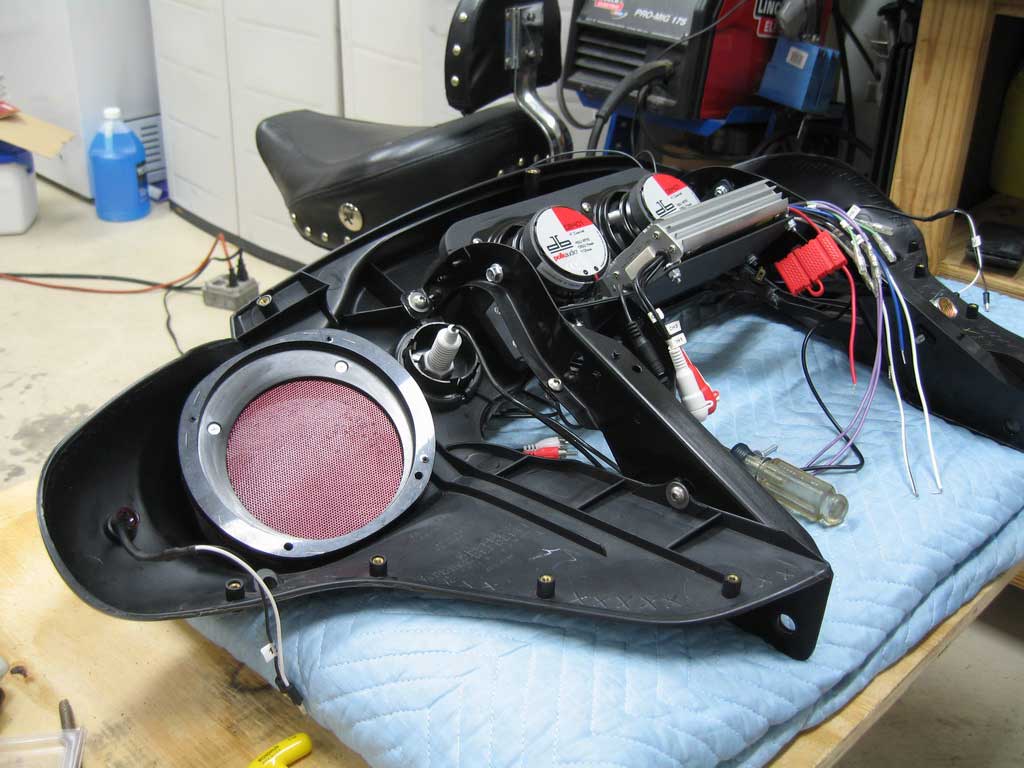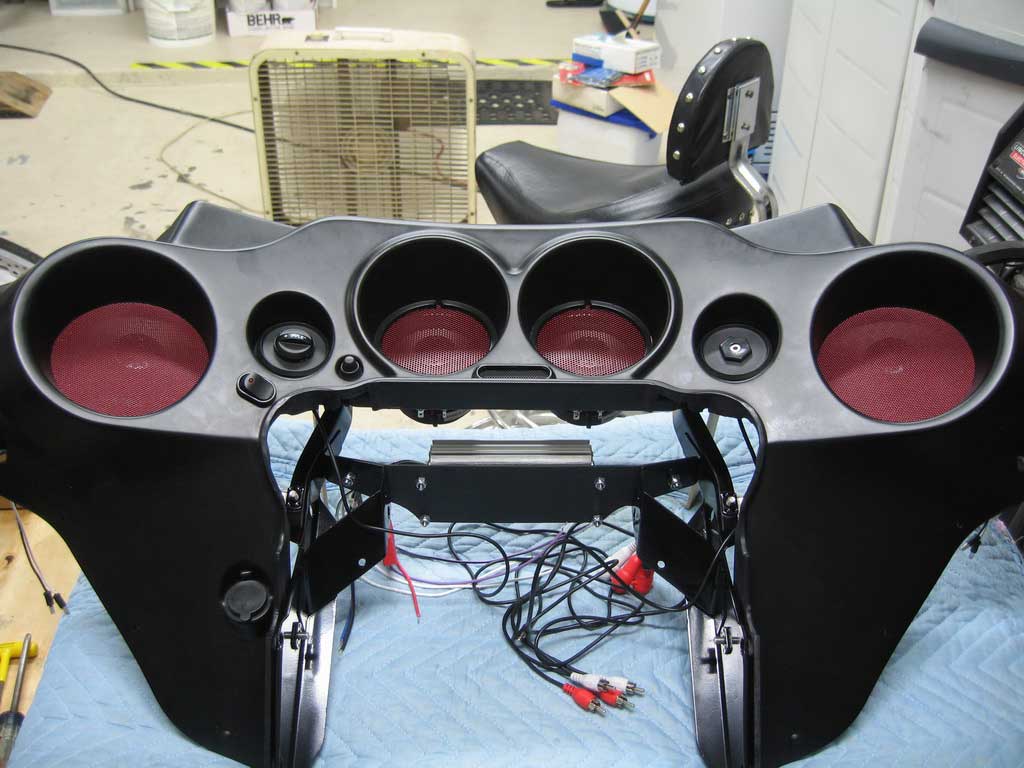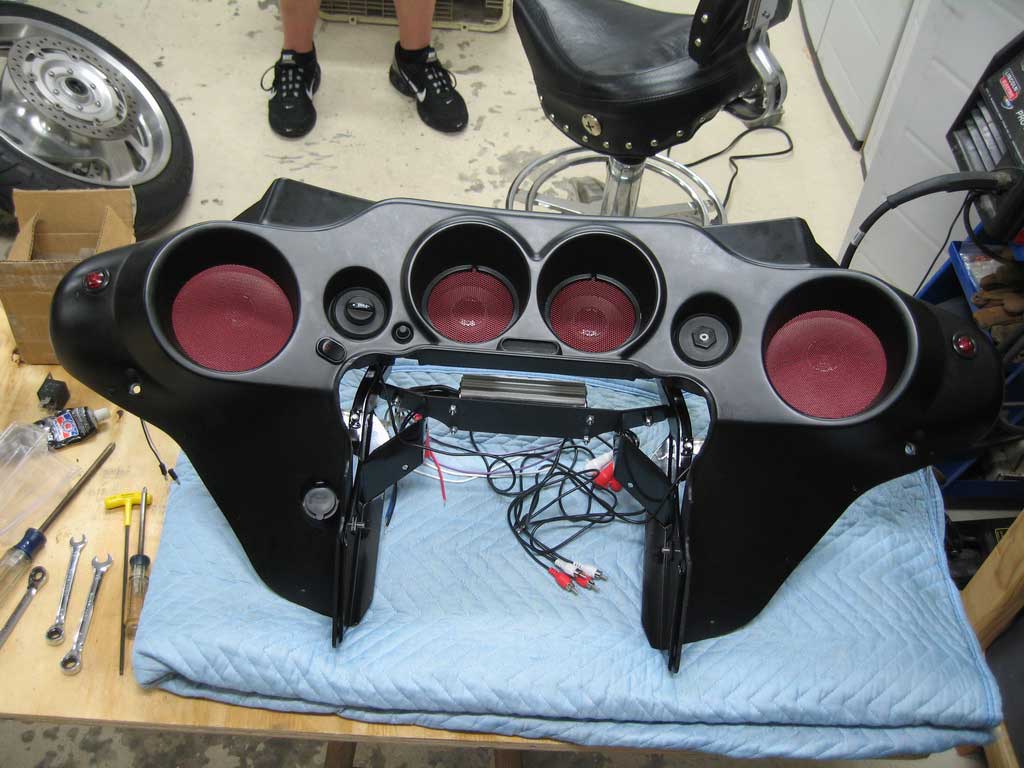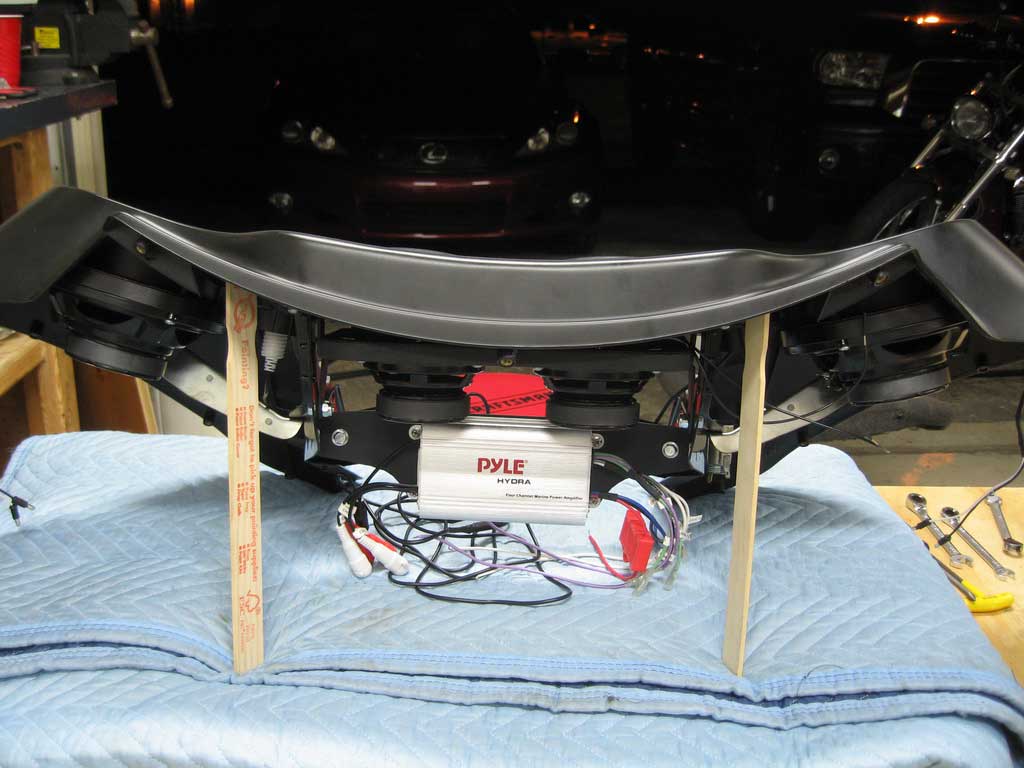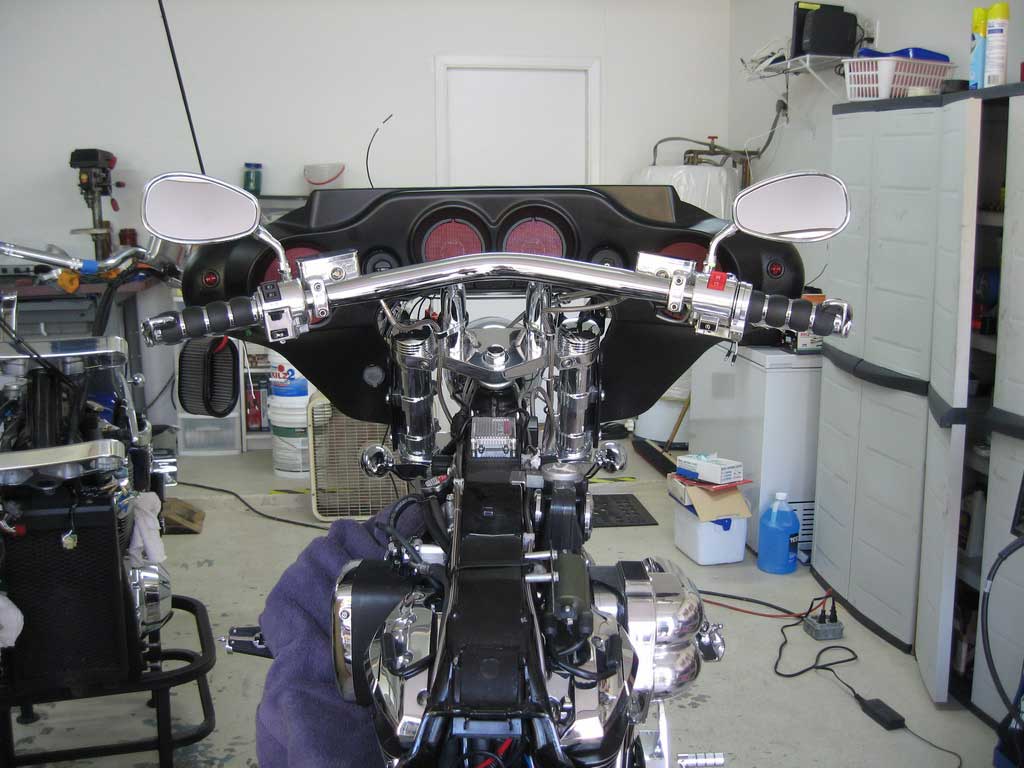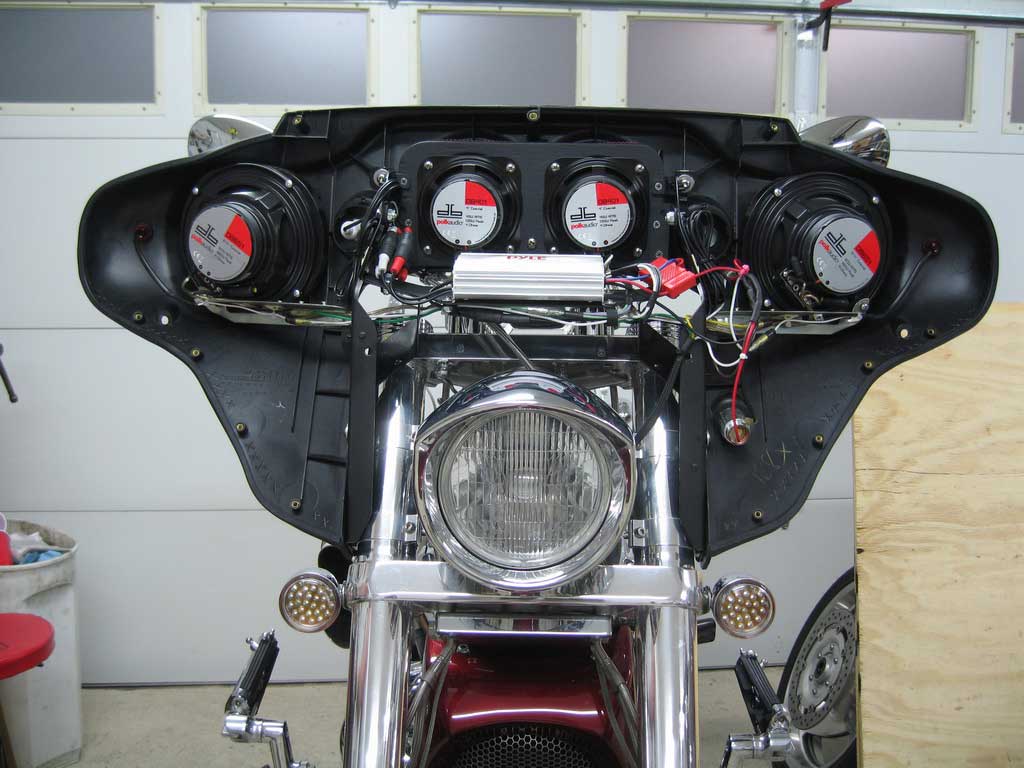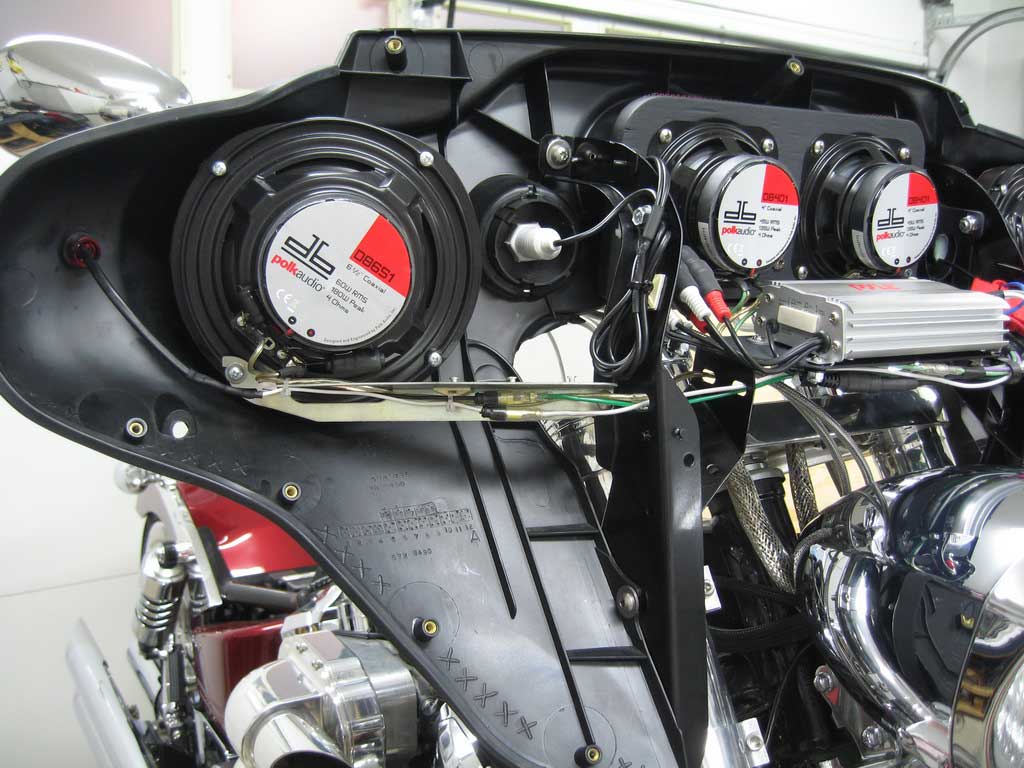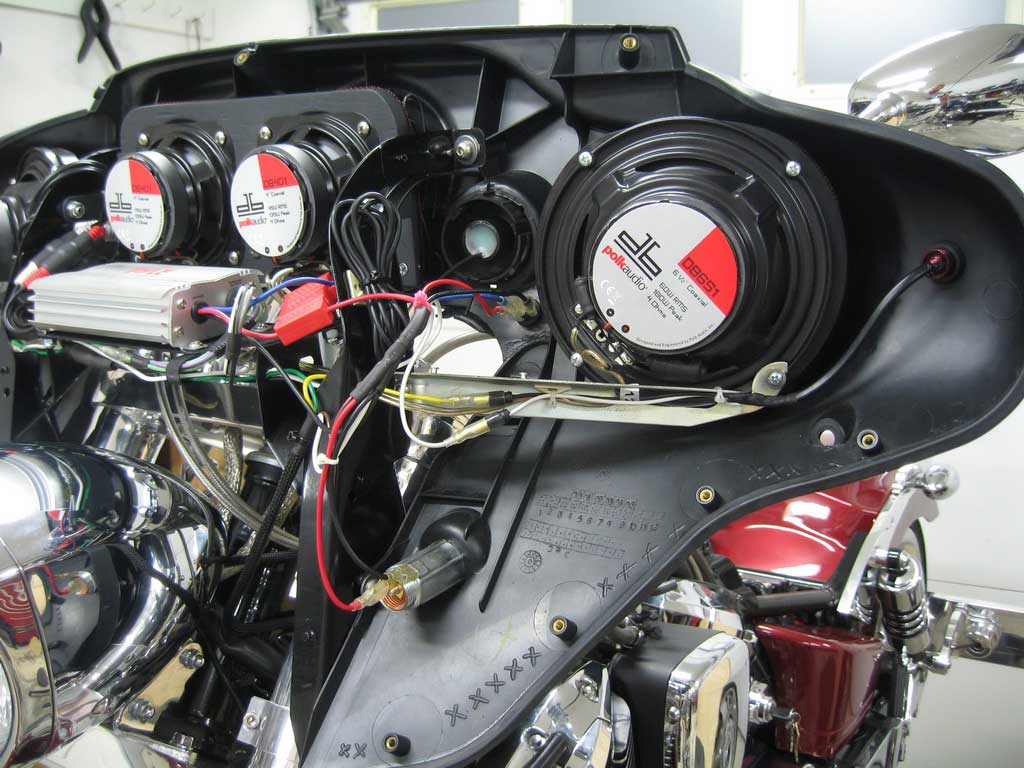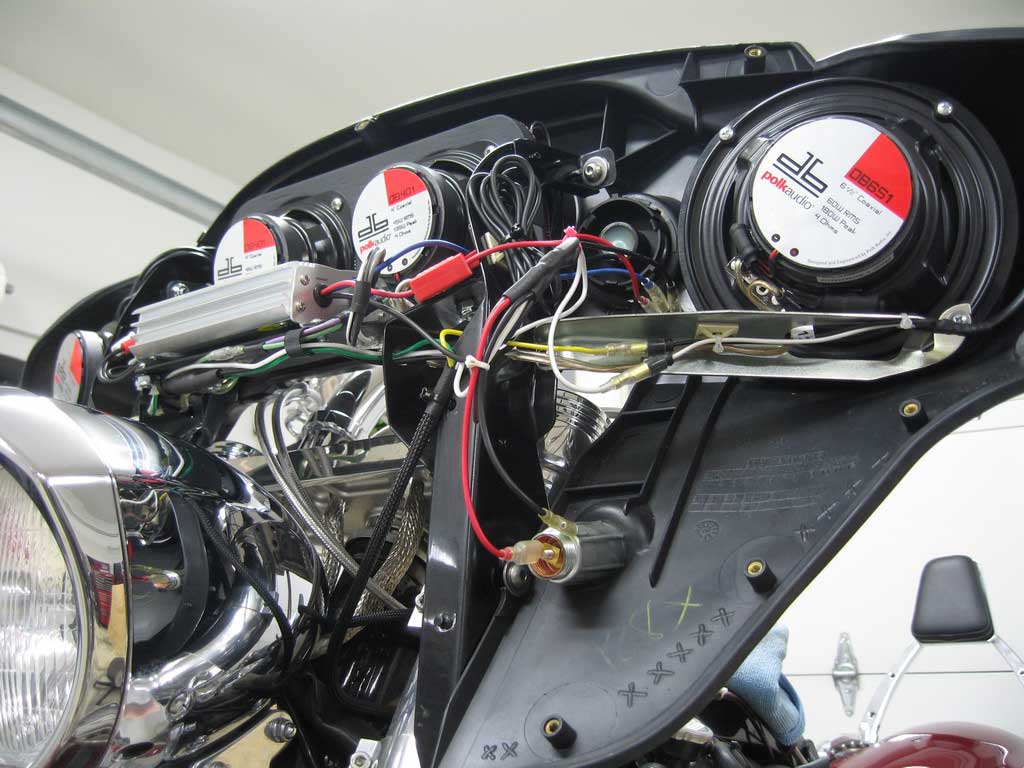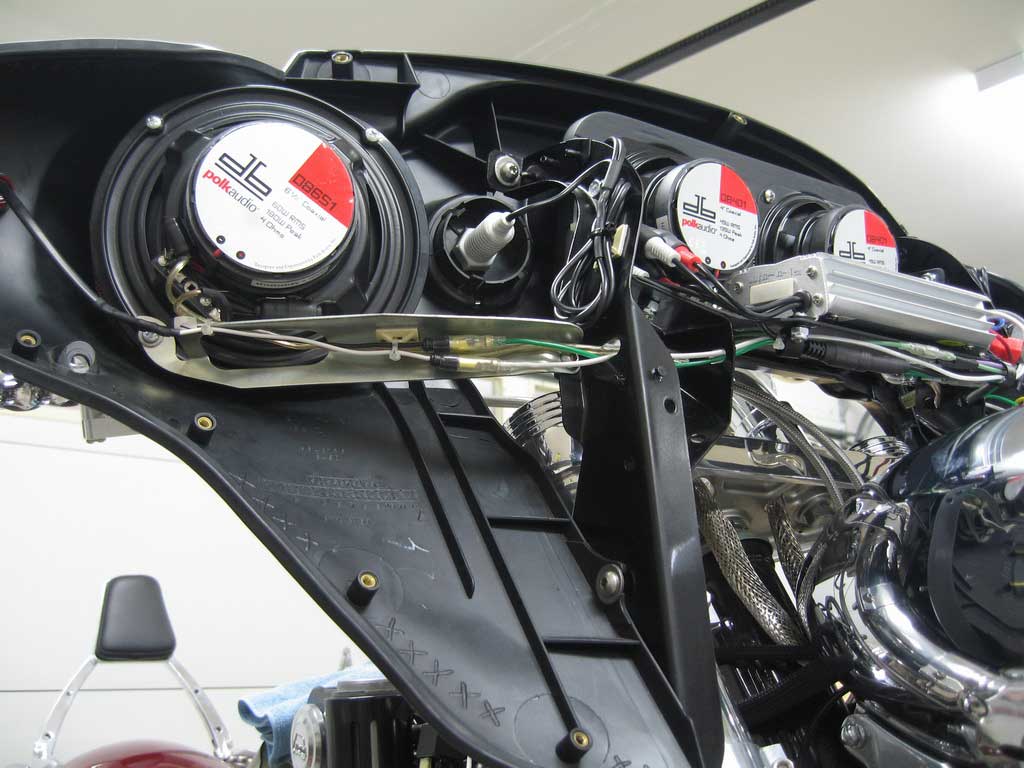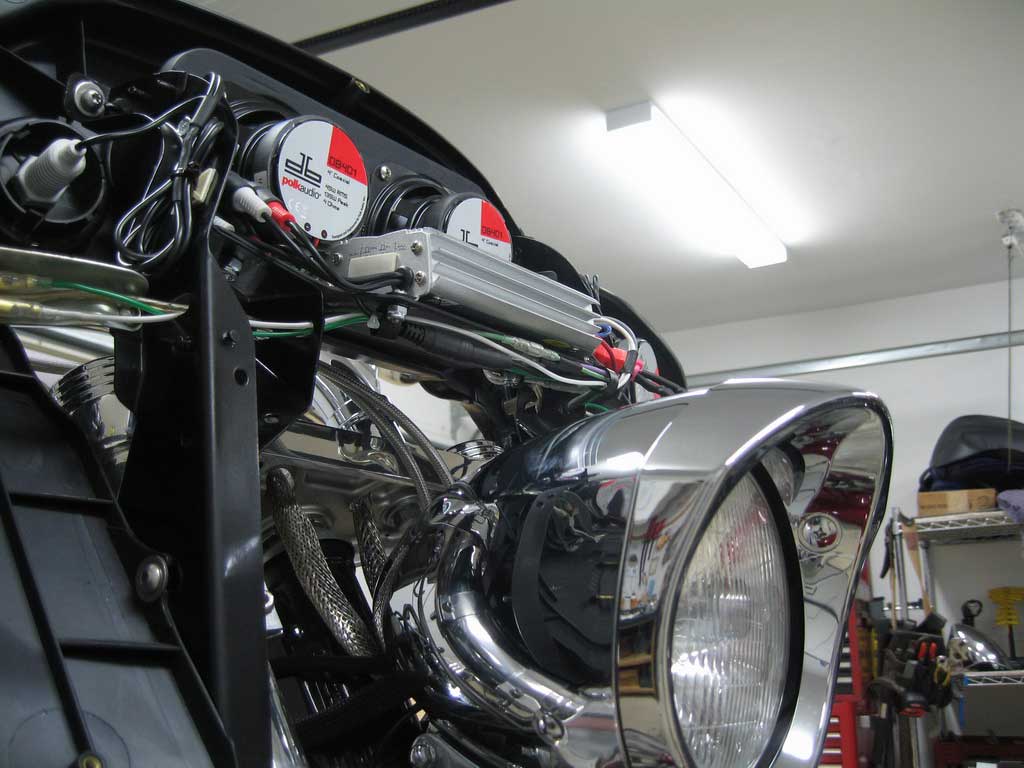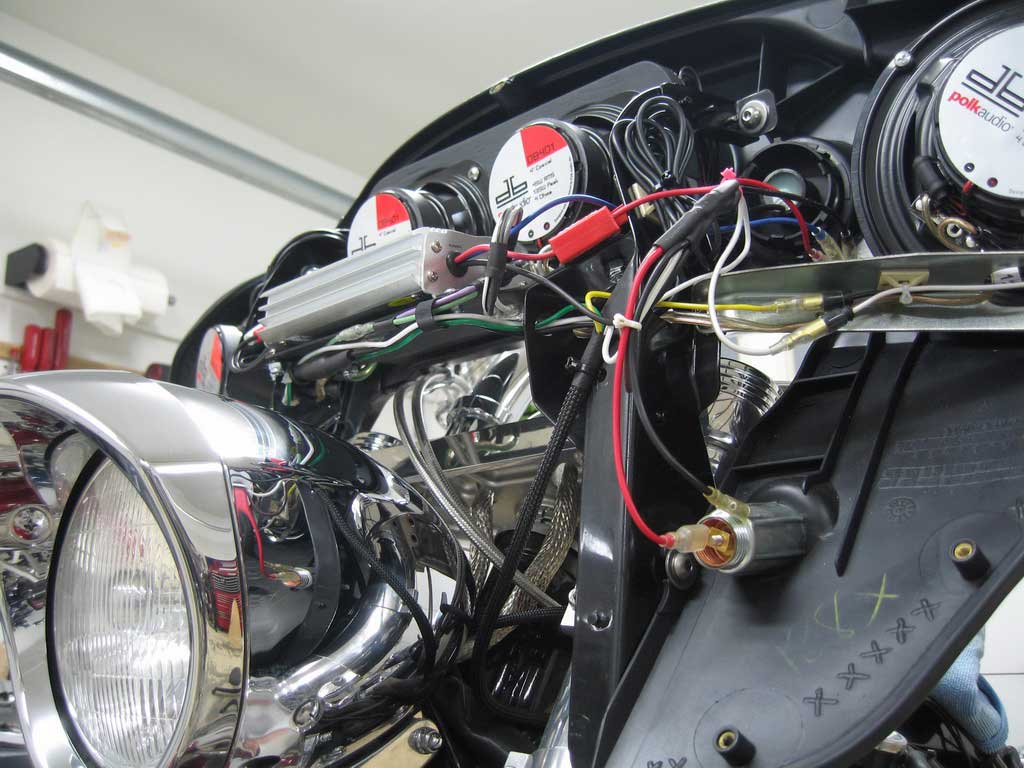 Not to give the wrong impression, this was not an easy bolt-on solution. The Harley mounting brackets needed to be cut/shaved to fit the VTX and the entire radio and 2 gauge pods had to be removed completely in order to make the fairing fit at the angle desired. Removal of the radio and pods meant grinding and polishing the plastic inner fairing so it didn't look as if it had been cut. Removal of the radio slot meant finding an amplifier solution with a remote volume knob and some other form of input. The Pyle amp provided this with a detachable volume knob (visible in the pictures) and a 1/8″ input jack that a MP3 player could be plugged into. The amplifier was a 4-channel version that was 2 Ohm stable, so we wired the speakers in parallel to drop the resistance to 2 Ohms and get more power out of the amp. The amp was mounted to a custom cut and bent piece of 16 gauge steel bolted between the two fairing supports. The amp mount actually strengthened the fairing supports quite a bit.
The 6.5″ speakers required adapters so they would fit in the 5.25″ existing holes. These were purchased from Throttle-Up Industries. The 4″ center speakers required quite a bit more work since I opted to install them in holes designed to hold gauges, not speakers. In order to accommodate both the protruding tweeter and the movement of the speaker I made a spacer from 1/2″ plywood. I cut the speaker holes in the plywood to the exact size of the gauge openings on the fairing and then used a router to bevel the inside edge. This allowed the holes in the plywood to match the holes in the fairing while the speaker still had clearance to move. The plywood was held in place by four custom bent brackets bolted to the fairing supports and the speakers screwed directly into the plywood.
The inner fairing originally had 2 small holes on each side where fairing mounted mirrors were once attached. Rather than fill these holes with plugs and settle for an unfinished look I opted to enlarge the two small holes on each side into one larger hole and install two 3/4″ round LED lights. I wired these to the left and right turn signal circuits so they now serve as additional blinkers. The location and angle of the lights act in a similar fashion to sidemarker lights or "mirror blinkers" like many cars now have.
All power and wiring necessary to run the fairing was brought in using a simple 4-pin trailer plug. This is heavy enough to support the power requirements of the fairing, extremely durable, waterproof, and makes disconnecting a breeze if removal of the fairing is ever desired.
Build sheet
Harley batwing fairing inner and outer shell
Memphis Shades windshield mounting brackets
Pyle Hydra model# PLMRMP3A marine amplifier
Polk Audio DB651 6.5″ coaxial waterproof speakers
Polk Audio DB401 4″ coaxial waterproof speakers
Throttle-Up Industries 6-1/2″ Speaker Adapter Rings
2x red round P2 grommet mount sidemarker light
Cigarette lighter
Illuminated oval rocker switch
4-pin trailer wiring harness
Misc brackets, plywood, sheet metal, nuts/bolts, wiring, etc to modify and make mounts
All custom work/assembly by Bareass Choppers