The Problem with Wire-Tap Connectors
Posted by Bare | Last Updated August 22, 2013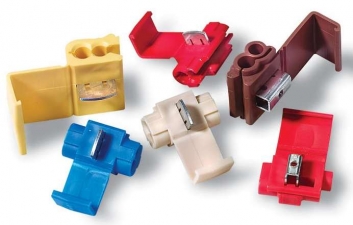 Inline wire taps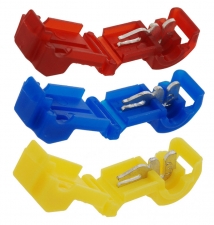 T-tap connectors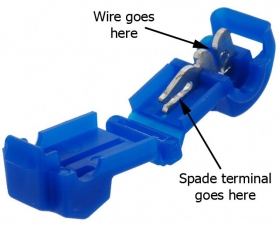 T-tap connector details
T-tap connectors
Many electrical accessories today come with connectors that are designed to "splice" connections into other wires without the need for cutting and soldering. 3M™ makes a lot of these under the Scotchlok™ name in all sorts of sizes and for all types of uses (see pics to the right). These connectors are commonly referred to as "vampire connectors" because they "bite" into another wire to "suck" power.
The different colors indicate the size (gauge) of the wire they are designed to work on. In some cases these connectors can be useful and save a lot of time, but the types and sizes that are typically used for automotive and motorcycle applications (typically 18-22 gauge) can cause a number of problems up to and including complete failure of the splice.
Inline wire taps (like the top picture) work by placing the connector around an existing wire and then feeding the clean cut end of another wire into it. When the metal portion is pressed down with a pair of pliers it cuts like a small guillotine into both wires and establishes a connection across the 2 wires in the process. The little plastic strap folds over and clips in place to hold the metal bit in place.
The other style commonly used in automotive and motorcycle applications is the T-tap (see pics to right). The T-tap accomplishes the same thing as the inline splice but it only cuts it's way into one wire, the second wire that is "tapping" into it plugs in via a common spade style connector. If you look at the 2 bottom pictures you can get an idea of what I'm talking about.
Now you might wonder what the problem with this is, what makes this so bad? I mean, it's a quick and easy solution to splicing wires, and it helps those without much electrical skill to add accessories, right? While all this is true, the problems come from a handful of different issues that arise from the nature of the connection itself.
First, the simple act of pressing the wire into this slotted metal piece bludgeons the wire. The concept behind this is fine – it's supposed to strip back the insulation on the wire to make contact with the wire itself. The problem is that there is no guarantee that you won't accidentally catch some of the wire in this process and tear some of the individual wire strands. It is actually quite common that this does happen. Second, when the connection process does strip the insulation without completely trashing the wire then the opposite is sometimes true – it only makes limited contact with the wire.
Both the over and under "stripped" problems I mentioned above are often exacerbated by users who do not realize the color/sizing relationship of these connectors to the wires. If you choose a size too big or a size too small for the wire you're tapping into then you will end up with an exaggerated version of the 2 problems I discuss above. I speak about this with experience because when I was younger I made these exact mistakes!
Now, let's just say hypothetically that you do establish a perfect connection during the process of installing one of these taps – what then? This is where you have to be concerned about the long-term, surprise you one day/night, maybe leave you stuck on the side of the road, kind of problems. The process of making these connections tears the insulation and leaves some of the wire exposed. Over time the exposed wire begins to oxidize and corrode due to exposure to the elements. All these factors slowly wear on the wire and make it less conductive, but more important to this discussion – the wire becomes brittle.
So now you have an exposed, oxidized, corroded, and brittle wire clamped in the groove of a little metal piece with sharp edges specifically designed for cutting through the wire insulation. Take this situation and add vibration – the kind of vibration you get from just driving your car or bike – motor vibes and bumpy roads. With these elements in place, all that becomes necessary is the last one at play – time…
Brittle wires, sharp edges, regular vibration and time breaks the wire down one strand at a time until complete failure occurs – and remember that this was a "perfect" connection. Splices that cut and nick wires (like I originally mentioned above) will fail faster. Now I understand having your GPS, radio, CB, lightbar or other superficial accessory fail may not be a problem – but the failure of the wires they attach to is. The nature of these taps is that the wire running your accessory is probably going to be OK, but the wire it taps into for power will probably break. This is a problem because, for convenience, most accessories tap into power sources that come on automatically when the key is turned on. What is so important that it comes on and stays on when you turn the key on your bike?
Computers that control everything from sensors to ignition systems
Power Commander units (EFI)
Headlights
Taillights
Dash lights
Radiator fans
So think about your accessories – which 12V wire is going to fail on your bike?
These taps are also commonly used in many other applications such as – load equalizers, Power Commanders, run/turn/brake units – all sorts of things. Not all of these parts would leave you stranded if they were to fail, but some might. Some Power Commander units use a T-tap to splice into the throttle position sensor (TPS) wire and I have seen times where the tap cuts the wire and causes the bike to run horribly until it's fixed. The slow breaking of the wire as the tap gradually cuts through individual strands can even give you the false appearance that the connection is fine even when it is not.
So consider all these factors and applications and then ask yourself if maybe a little extra time and a soldering iron aren't in your future. I have never found a wire that I could not splice into with a soldering iron and solder, and I have never experienced a failure of any solder joint I have made. I will admit that I grew up soldering (my dad is an electrical engineer) so I have experience soldering and it's second nature to me – if you're intimidated then spend a little time Googling the process. There are a lot of good articles out there discussing the process and explaining the steps in detail. After a little reading, buy yourself a soldering iron and spend some time practicing with some scrap wire until you're comfortable with it. You'll quickly learn that the process isn't terribly complicated and the next time you think about using a tap connector you can do this instead.