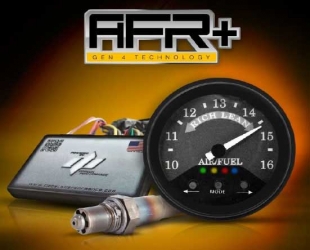 A few weeks ago during a routine conversation with Dobeck Performance the idea of them importing their AFR+ technology to the VTX was discussed. Many of you know Dobeck as the company behind the Techlusion (TFI) fuel manager, but you may not realize that Dobeck is behind many aftermarket fuel managers marketed under other names like the HMF Optimizer, Arlen Ness Big Shot, Two Brothers Juice Box, Wiseco Fuel Management Controller, and Revtech DFO just to name a few. Mark Dobeck actually founded Dynojet before moving on to start Dobeck Performance in 1997.
The AFR+ fuel controller is a combination of Dobeck's Electronic Jet Kit (EJK) and SAFR units. The EJK is their flagship standalone fuel manager and the SAFR is a diagnostic tool that uses a wideband O2 sensor/gauge combo to show your bike's real-time air/fuel ratio. Combining these units into one gives the AFR+ the ability to function as both an open and closed loop fuel manager. This means you can dial it in for your bike, but then it will take over and self-adjust. No more expensive trips to the dyno, and the air/fuel gauge lets you always be sure you're running right. You can check out videos showing all the units on their YouTube channel.
The install and testing of the unit will be done by "big bad" as he's the one who wanted to pay for and test the unit even though it's not technically fully "polished" for the VTX. Even though Dobeck's AFR+ technology is fully functional, there might still be some small tweaking that needs to be done specific to the VTX. The entire process including installation, testing, and finalization for the VTX market will be discussed in this forum post. Please come on over and join the discussion!
If you're interested in an AFR+ unit or anything else Dobeck has to offer, please drop us an e-mail and we'll be sure to get you set up with whatever you need.