Changing Engine Oil (VTX)
Posted by Bare | Last Updated April 1, 2016
This is a walk-through for changing the oil on the VTX. The process is the same for both 1300s and 1800s regardless of model. I have to say thanks to David from the VTXOA for snapping these pics and doing the initial write-up which served as a template for this write-up. This is a simple job which only requires a few basic tools. As always undertake this project at your own risk, but with a little common sense this isn't very hard to do.
Required tools/Materials
Torque wrench capable of

20-22 ft/lbs

17mm socket
Strap wrench or oil filter socket
Funnel
Drain pan (whatever your choice is for draining oil into)
3.9 qts of your favorite oil
(Optional) 2 new crush washers
(Optional) oil change "blocks"
Process
I always start oil changes with a quick trip around the block. I ride for about 2-3 minutes just to get the engine oil warmed up and moving. By doing this I get all the "junk" that settles in the motor mixed into the oil so that when I drain it comes out too. Plus warm oil flows better than cold oil so it should drain faster. I get my tools together before I make this trip so that as soon as I get back I can drain almost immediately before anything settles back out of the oil. I know a couple of minutes won't make a huge difference, but I'm anal about getting the old oil and as much "junk" out of the motor as possible.
Once I take my quick trip I get my bike up on my oil change "blocks".
Some guys will prefer other methods such as a PepsX stand, but I know that doing this without raising the bike at all will result in busting your knuckles.
So with the bike ready to drain, slide the drain pan under the bike and unscrew the dipstick (to allow air in as oil drains):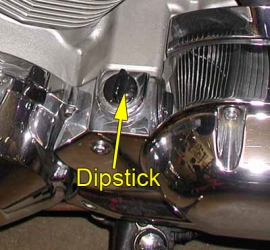 Remove the rear drain bolt with the 17mm socket: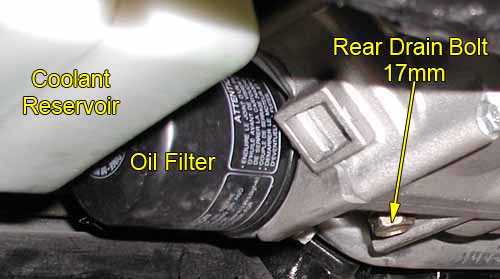 If there is any confusion, this picture was taken under the bike in front of the rear tire. On 05+ 1800s the coolant reservoir in this picture is actually the fuel pump instead. All other VTX's should see the coolant reservoir like in this picture.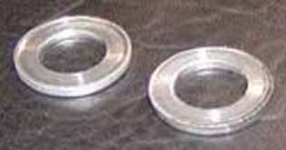 Now you wait… While the oil is draining, check out the crush washer on the drain bolt. If there is no washer there it may have fallen into the oil when removing the bolt. Unless you plan to replace this washer you'll need to fish it out of the drain pan. Give it a close inspection, making sure there are no obvious nicks or flaws in it. You also want to look for any significant crushing or deforming of the washer. The service manual recommends replacing these with each oil change, but if they still look ok then there's no reason you can't re-use it. If you have any doubt about the condition of the washer replace it, your safety isn't worth the few cents a new washer will cost.
I try to keep some of these on hand just in case I find myself needing to replace one at night or on a Sunday when I can't get one. If you are in need of one but don't want to buy from Honda you can usually take the existing washer to an automotive store and they can match it against their stock. Just be aware that these are not standard washers like from the hardware store.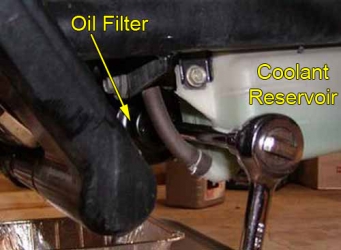 As the oil begins to slow from the rear drain bolt you should be able to slide most drain pans back enough to get it under the oil filter also. Use your filter socket, strap wrench, hand, or whatever to remove the old filter. Sometimes they get stuck (this is especially true for bikes on the first oil change) so if worse comes to worse just punch a screwdriver through the filter (you're throwing it away anyway) and use that to unscrew it.
With the filter removed, let the remaining oil drain and check to make sure the gasket came off with the filter. Sometimes the rubber gasket on the old filter will stick to the engine case. Installing a new filter over an old gasket results in a dangerous "double gasket" situation which can potentially leak – or worse drain all your oil suddenly. This makes it a good idea to check the old filter and visually inspect the engine case before installing a new filter.
Once the oil finishes draining from the rear drain plug and where the filter goes, take a drop of oil from your new supply and coat the gasket on the new oil filter. This usually requires nothing more than dipping a finger in a quart and then running it around the gasket. Now spin the new filter back onto the engine making sure you don't cross-thread it – it should spin right on with almost no resistance. The specific torque for the filter is 20 ft/lbs if you have the wrench and filter socket. If not, then just spin the filter down until it seats against the engine and snug it another 1/2 turn or so. This is how I have always done this and have never had an issue. With the filter installed, replace the rear drain bolt and crush washer and tighten it to 22 ft/lbs.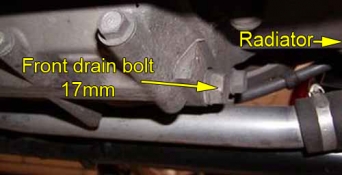 With the back buttoned up, slide your drain pan forward and under the front drain bolt (see pic). You're going to do the exact same thing for this drain bolt as for the rear one – remove it, let the oil drain, inspect the crush washer, and when the oil is finished draining replace the bolt and crush washer snugging them down to 22 ft/lbs.
Keep in mind that you're not going to get a lot of oil out of this front drain, the majority of the oil comes out of the rear drain plug.
With the filter replaced and both drain bolts/washers checked and torqued down, you are now ready to add your 3.9 quarts of oil. Oil is a very personal choice so make your own decision on what you want to run. I run Amsoil's "MCF" 10W-40 in my bike. It is their motorcycle specific 10W-40 and it has an additive package that is designed to work well with the wet clutch. If you're uncertain about your oil decision then maybe you should read Tapper's big oil article. It has a wealth of information about oil from someone who has done their homework.
After you've chosen your oil, grab your funnel, remove the dipstick, and dump all 4 quarts in quickly – pouring but not allowing the bottle to sit upside down and drain every little bit. After pouring all 4 quarts this way there is about .1 quart left between all 4 bottles so you've added the required 3.9 quarts.
There is some debate/discrepancy between folks about the proper method to refill the bike. This confusion has led to some folks putting 5 and 6 quarts of oil into a bike that only requires the 3.9. What I've learned from working on these bikes is that the sticks in these bikes can vary slightly from bike to bike- how they read, how you lean when you check the stick, how much oil has drained down, etc. No matter how much you try to replicate the same conditions (run time, cool down time, etc) there are always slight discrepancies. This is why I pour the old oil into the 4, now empty, quart bottles. This makes it easy for me to deliver the oil for recycling, lets me know how much oil I drained, and lets me monitor if the motor is burning oil. After a few changes you learn how much oil to expect and if anything is off you'll recognize it. I never look at a dipstick unless the amounts of oil drained and replaced are dramatically different.
If you're a strictly "by the book" person, or you have to check the oil level using the dipstick, then this is the procedure per the manual:
Start the engine and let it idle for 3-5 minutes
Stop the engine, let the bike sit for 2-3 minutes
Make sure the bike is on a level surface
Remove the dipstick and wipe it clean
Stand the bike upright off the sidestand
Insert the dipstick until it seats, but don't screw it in
Remove the dipstick and check the level
If you decide to use this method please keep in mind what I've mentioned above. I am generally always a "by the book" kind of guy when working on bikes, but this is one time when I trust real world experience over what the book says.
That's it – you're done – congratulations!
Afterthoughts
This is a simple process that even the most inexperienced rider can do with the right tools. Doing this yourself will make you feel more comfortable and knowledgeable about your bike and you can be certain it's getting serviced properly. Plus, you're saving a few bucks that you can invest in other things…