ECU Error Codes (VTX 1800)
Posted by Bare | Last Updated March 19, 2015
This is a list of the FI light error codes that the stock ECU will flash. The FI light is sometimes referred to as the MIL light which is short for "malfunction indicator lamp". The MIL is the red light labeled "FI" on the dash panel, it lights up momentarily after you turn the key on before you start the bike. Remember when counting these flashes that there are long (1.3 second) flashes as well as short (.5 second) flashes. The long flash represents 10 flashes while the short flash represents 1, this means that one long flash followed by 3 short flashes equal error code 13.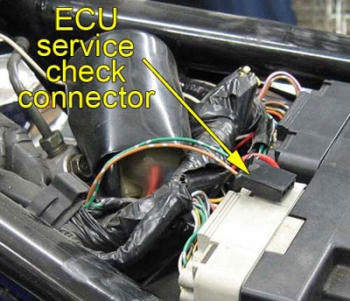 Self-diagnostic procedure
With the kickstand down start the engine. At this point if there is a problem the MIL should start flashing a code. The MIL will only flash a code with the kickstand down AND the engine idling at less than 5000 RPM's.
If this procedure fails to generate a code you can search the ECU's memory for the last code it flashed. Turn the key off and remove the seat. Under the seat locate the ECU service check connector, if you have a pre-04 VTX then you are looking for a 3 pin black plug with 2 wires (green and brown) entering the back (see pic). If it is an 04 or newer VTX then you are looking for a 4 pin red plug with 4 wires (green, brown, green/orange and black/white) and a red snap-on cover.
Neither plug should be plugged into anything.
You can also find additional information and pics about this process on my forums at this link. The information found there is especially important to read if you have the 04+ VTX with the newer red plug.
Using a small piece of wire short out the 2 wires in the connector (use the wire to connect the 2 terminals in the plug). Turn the key on and flip the kill switch (big red button in right switch housing) to the on position. If there is an error code in the ECU's memory the MIL will start to flash the code as soon as you turn the key on. If there is NOT an error code in the ECU's memory then the MIL will just light up and stay on.
Once you have an error code you can reference the table below to find out where your problem is.
At this time I have refrained from listing the exact procedure for troubleshooting every single cause because there are about 40 pages of detailed instructions in the manual outlining the procedures – many requiring special tools.
VTX 1800 ECU Error Codes
# flashes
Symptoms
Causes
0
(no flash)
Engine doesn't start

Open circuit at the power input wire of the ECM
Faulty bank angle sensor
Open circuit in bank angle sensor related circuit
Faulty engine stop relay
Open circuit in engine stop relay related wires
Faulty engine stop switch
Open circuit in engine stop switch related wires
Faulty ignition switch
Faulty ECM
Blown PGM-FI fuse (30A)
Open circuit in engine stop switch ground
Blown sub-fuse (10A starter/ignition)

Engine operates normally

Open or short circuit in MIL wire
Faulty ECM

0
(stays lit)
Engine operates normally

Short circuit in service check connector
Faulty ECM
Short circuit in service check connector wire

1
Engine operates normally

Loose or poor contacts on MAP sensor connector
Open or short circuit in MAP sensor wire
Faulty MAP sensor

2
Engine operates normally

Loose or poor connection of the MAP sensor vacuum hose
Faulty MAP sensor

7
Hard start at low temps

Loose or poor contact on ECT sensor
Open or short circuit in ECT sensor wire
Faulty ECT sensor

8
Poor engine response when
operating the throttle quickly

Loose or poor contact on TP sensor
Open or short circuit in TP sensor wire
Faulty TP sensor

9
Engine operates normally

Loose or poor contact on IAT sensor
Open or short circuit in IAT sensor wire
Faulty IAT sensor

10
Engine operates normally

Loose or poor contact on BARO sensor connector
Open or short circuit in BARO sensor wire
Faulty BARO sensor

11
Engine operates normally

Loose or poor contact on vehicle speed sensor connector
Open or short circuit in vehicle speed sensor connector
Faulty vehicle speed sensor

12
Engine doesn't start

Loose or poor contact on rear injector connector
Open or short circuit in rear injector wire
Faulty rear injector

13
Engine doesn't start

Loose or poor contact on front injector connector
Open or short circuit in front injector connector wire
Faulty front injector

18
Engine doesn't start

Loose or poor contact on cam pulse generator
Open or short circuit in cam pulse generator
Faulty cam pulse generator

19
Engine doesn't start

Loose or poor contact on ignition pulse generator connector
Open or short circuit in ignition pulse generator
Faulty ignition pulse generator

21
Engine operates normally
23
Engine operates normally
33
Engine operates normally but
does not store self-diagnosis data
Sensor locations
While this isn't the best picture in the world it should give you a decent idea of where to find things: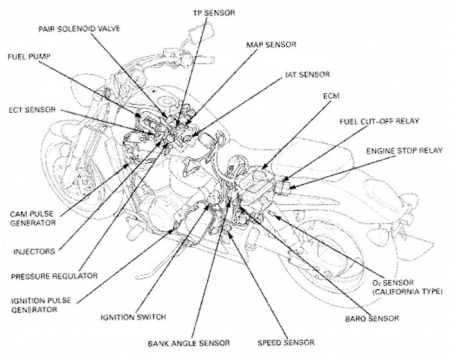 Click for larger image